EL PASO
Headlight cutout sized for 53/4 – 7" headlight
Smooth design complements the lines of your machine
Tapered windshield lower is ideal for handlebar-mounted turn signals
Made of Lucite® for excellent optics and durability
Available in three gradient colors and solar (a light tint with 72% visible light transmission)
Measures approximately 20" W; available in 17" or 19" H above headlight
Fits most round headlights
No-Tool detachable Trigger-Lock mounting kits must be ordered separately; see pages ???-???
Made in the U.S.A.
EL PASO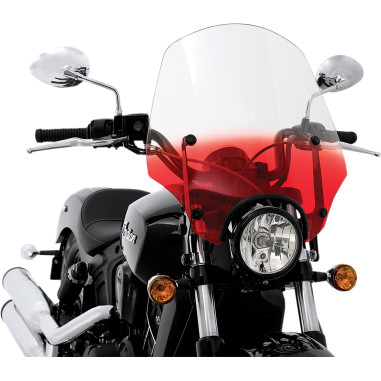 | Part # | Description | Sug. Retail Price |
| --- | --- | --- |
| MEP5211 | 17" Gradient Black El Paso Windshield | $96.95 |
| MEP5212 | Gradient Ruby 17" El Paso | $96.95 |
| MEP5216 | Gradient Blue 17" El Paso | $96.95 |
| MEP5219 | 17" Solar El Paso Windshield | $96.95 |
| MEP5221 | 19" Gradient Black El Paso Windshield | $96.95 |
| MEP5222 | Gradient Ruby 19" El Paso | $96.95 |
| MEP5226 | Gradient Blue 19" El Paso | $96.95 |
| MEP5229 | 19" Solar El Paso Windshield | $96.95 |