LEGEND AIR TRI-GLIDE AIR SUSPENSION
Legend AIR suspension system sets the high mark in ultimate ride quality
Exclusive Aramid Fiber air spring technology provides spring rate adjustability
Air springs maximize wheel travel and adjust to any desired ride height
Fitment accommodates 13" and 12" needs
Spherical mount bearings top and bottom
Hard anodized machined aluminum bodies
Legend's low-friction seals eliminate stiction
High Flow Piston reacts quickly for improved fluid flow management
Deflective Disc Valved Damping self-adjusts to frequency and ensures controlled performance
Air compressor included, pre-wired and model-specific mounting
Complete wire harness installed with three easy Deutsch connectors
System includes OEM-looking black handlebar-mounted control for easy "on-the-go" adjustability
Optional chrome handlebar-mounted control sold separately (PART #0616-0207)
Optional fairing-mounted matching gauges (PART #s 2212-0484, 2212-0485, 2212-0492, 2212-0493, 2212-0494) available separately
Made in the U.S.A.
LEGEND AIR TRI-GLIDE AIR SUSPENSION
NOTE: Optional Tri-Glide rear lift kit, PART #1313-0120, also available; see page ???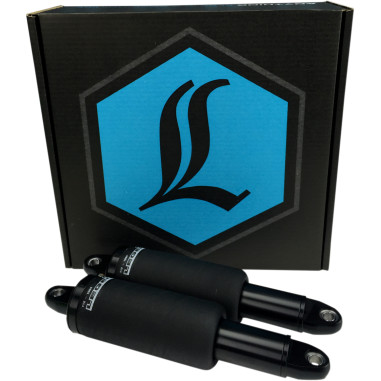 | Part # | Description | Sug. Retail Price |
| --- | --- | --- |
| 1311-0154 | Black Legend Air Air Suspension Kit | $1,649.95 |