DRESSER DUALS HEADER SYSTEMS
Independent 13/4​" header pipe system for maximum performance
Includes 220° full-length 21/8​" heat shields
Allows the use of any OEM-style mufflers for year applications listed
Perfect complement to the Vance & Hines slip-on mufflers (sold separately)
Conversion kit includes grommet and mounting rail required to convert 10 FLTRX/FLHX models with factory 2-into-1 exhaust to dual systems
Adapter kit extends Dresser Dual headpipes to allow installation on H-D FL Trike models
All CVO models require floorboard extension kit PART #1621-0640 (sold separately); see FOOTRESTS & FLOORBOARDS section
Made in the U.S.A.
DRESSER DUALS HEADER SYSTEMS
NOTE: C.A.R.B. E.O. #K-006-1 – see page ??? for needed mufflers for C.A.R.B. E.O. set.
DISCLAIMER: NOT LEGAL FOR SALE OR USE IN CALIFORNIA ON ANY POLLUTION CONTROLLED MOTOR VEHICLES.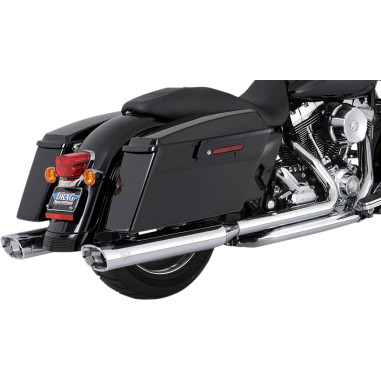 | Part # | Description | Sug. Retail Price |
| --- | --- | --- |
| 1802-0129 | Chrome Adapter Kit For FL Trike | $99.99 |
| 1802-0204 | Chrome Dresser Duals Header System | $479.99 |
| 1802-0205 | Black Dresser Duals Header System | $519.99 |
| 1802-0303 | Chrome Dresser Duals Header System | $549.99 |
| 1802-0321 | Black Dresser Duals Header System | $589.99 |
| 1802-0380 | Chrome Dresser Duals Header System | $549.99 |
| 1802-0381 | Black Dresser Duals Header System | $589.99 |
| 1802-0387 | Chrome Exhaust Adapter Kit | $149.99 |
| 1802-0388 | Black Exhaust Adapter Kit | $149.99 |
| 1861-0573 | Conversion Kit For FLHX/FLTRX | $29.99 |