ROUND SISSY BARS
Solid, high-strength steel round bars use the same simple installation method and the same support brackets as Cobra square bars
Come with a pad (12" W x 8.25" H x 2.5" thick) and a plain steel backrest insert
Available in standard or short options
Available in chrome or black
Include everything you need for installation
Made in the U.S.A.
ROUND SISSY BARS
NOTE: Optional luggage rack sold separately, see page ???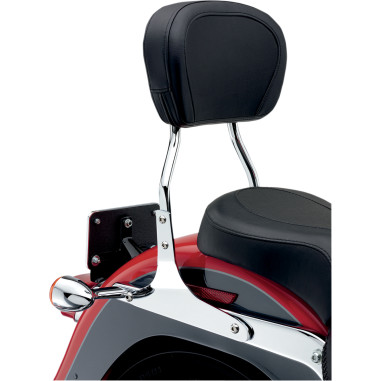 | Part # | Description | Sug. Retail Price |
| --- | --- | --- |
| 1501-0360 | Chrome Standard Round Sissy Bar | $329.95 |
| 1501-0361 | Chrome Short Round Sissy Bar | $329.95 |
| 1501-0365 | Chrome Standard Round Sissy Bar | $329.95 |
| 1501-0366 | Chrome Short Round Sissy Bar | $329.95 |
| 1501-0370 | Chrome Standard Round Sissy Bar | $329.95 |
| 1501-0371 | Chrome Short Round Sissy Bar | $329.95 |
| 1501-0375 | Chrome Standard Round Sissy Bar | $329.95 |
| 1501-0376 | Chrome Short Round Sissy Bar | $329.95 |
| 1501-0408 | Chrome Standard Round Sissy Bar | $329.95 |
| 1501-0409 | Chrome Short Round Sissy Bar | $329.95 |
| 1501-0466 | Black Short Round Sissy Bar | $329.95 |
| 1501-0467 | Black Short Round Sissy Bar | $329.95 |
| 1501-0468 | Black Short Round Sissy Bar | $329.95 |
| 1501-0469 | Black Short Round Sissy Bar | $329.95 |
| 1501-0470 | Black Short Round Sissy Bar | $329.95 |
| 1501-0471 | Black Standard Round Sissy Bar | $329.95 |
| 1501-0472 | Black Standard Round Sissy Bar | $329.95 |
| 1501-0473 | Black Standard Round Sissy Bar | $329.95 |
| 1501-0474 | Black Standard Round Sissy Bar | $329.95 |
| 1501-0475 | Black Standard Round Sissy Bar | $329.95 |