VICE FOOTPEGS
Match the Vice hand grips and shifter pegs
CNC-machined
Removable end cap sealed with an O-ring for easy installation and storage of registration
Will work with a stock female clevis if used with PART #1620-0569
Male mounts sold separately
Sold in pairs
Made in the U.S.A.
VICE FOOTPEGS
NOTE: Will not fit 18-19 Softails, 13-17 FXSB/FXSE, 11-13 FXS, 08-11 FXCW/C, 07-18 XL883N/XL1200N/XL1200NS/XL1200T/XL1200V/XL1200X/XL1200XS, 11-18 XL1200C/XL1200CX, 15-19 XG models.
NOTE: See page ??? for an explanation of footpeg mount styles.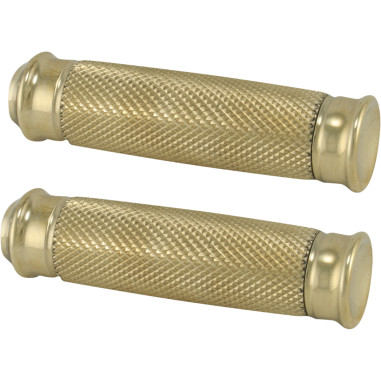 | Part # | Description | Sug. Retail Price |
| --- | --- | --- |
| 1620-0567 | Black Vice Footpegs Without Mounts | $142.95 |
| 1620-0568 | Brass Vice Footpegs Without Mounts | $180.95 |
| 1620-0569 | Polished Vice Footpeg Male Mounts | $92.95 |