MEMPHIS FATS WITH BIG HEADLIGHT CUTOUT
Features a 9.5" cutout with a custom shape that is designed for a perfect fit on the large nacelle headlights made by Arlen Ness, Rick Doss and others
Available in gradient black and clear
Made from Lucite® for excellent optics and durability
22" W with three standard heights
Windshield straps are polished stainless steel with CNC-machined billet aluminum fittings and stainless steel socket-head screws
No-Tool detachable Trigger-Lock mounting hardware must be ordered separately; available in polished or "Night Shades" black, see page ???
Optional Lowers available for additional windshield coverage, see page ???
Made in the U.S.A.
MEMPHIS FATS WITH BIG HEADLIGHT CUTOUT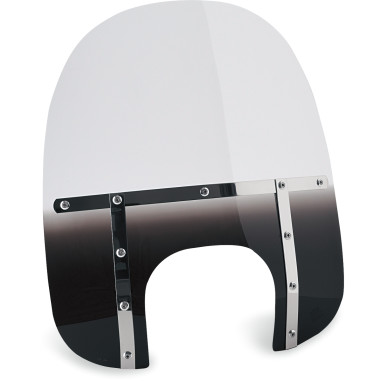 | Part # | Description | Sug. Retail Price |
| --- | --- | --- |
| 2313-0049 | Clear 15" Memphis Fats With Big Headlight Cutout | $185.95 |
| 2313-0050 | Gradient Black 15" Memphis Fats With Big Headlight Cutout | $185.95 |
| 2313-0054 | Clear 17" Memphis Fats With Big Headlight Cutout | $195.95 |
| 2313-0055 | Gradient Black 17" Memphis Fats With Big Headlight Cutout | $195.95 |
| 2313-0059 | Clear 19" Memphis Fats With Big Headlight Cutout | $206.95 |
| 2313-0060 | Gradient Black 19" Memphis Fats With Big Headlight Cutout | $206.95 |