VERTICAL FRAME-MOUNT OIL COOLER KITS
Extra riding time measured in years
Jagg oil cooler features cutting-edge technology to keep your engine cool under the most punishing conditions
Hoses and clamps are included with oil cooler kits
And because it's designed to look as good as it performs, it'l' perfectly complement your bike's style
Cooler oil makes engines last longer – simple as that!
Engineered to perform
Made in the U.S.A.
Highly concentrated mini-louvered air fins allow maximum heat transfer
Multipass oil flow configuration ensures the oil's utilization of the entire oil cooler
Specially designed turbulators in each oil passageway gently stir oil, exposing it to more critical heat dissipation surface area for superior cooling with minimal oil pressure restriction
VERTICAL FRAME-MOUNT OIL COOLER KITS
NOTE: Vertical oil cooler does not fit touring models with lower fairings.
NOTE: Ten-row cooler is recommended for 95" and larger motors.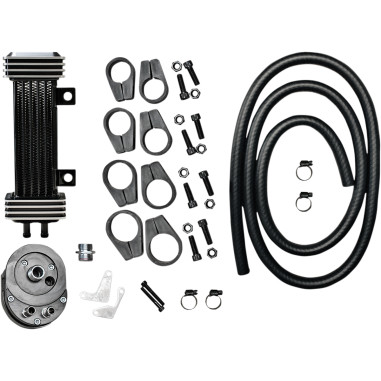 | Part # | Description | Sug. Retail Price |
| --- | --- | --- |
| 0713-0110 | Deluxe Vertical Frame-Mount Oil Cooler Kit | $449.95 |
| 0713-0111 | SlimLine Vertical Frame-Mount Oil Cooler Kit | $399.95 |
| 0713-0113 | Wideline Vertical Frame-Mount Oil Cooler Kit | $449.95 |
| 0713-0114 | Chrome Wideline Vertical Frame-Mount Oil Cooler Kit | $474.95 |