REPLACEMENT PLASTIC FOR MEMPHIS SHADES WINDSHIELDS
Replacement plastic is a low-cost alternative to replace worn or damaged Memphis Shades
Available in gradient black as well as clear and solar (a light tint with 72% visible light transmission)
Made of Lucite® for excellent optics and durability
Available for standard headlight size of 53/4​​" – 7" and 9" headlights
Replacement plastic does not include any hardware
Sportshield replacement plastic has same part numbers as found on pages ???
Made in the U.S.A.
REPLACEMENT PLASTIC FOR MEMPHIS SHADES WINDSHIELDS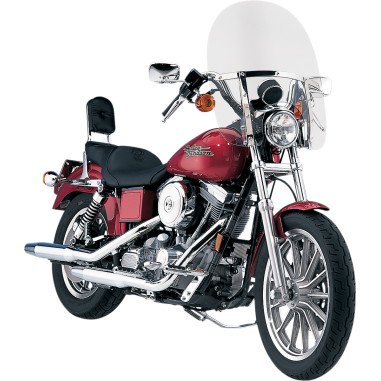 | Part # | Description | Sug. Retail Price |
| --- | --- | --- |
| 2313-0082 | Clear 15" Memphis Fats Plastic | $73.95 |
| 2313-0083 | Gradient Black 15" Memphis Fats Plastic | $73.95 |
| 2313-0084 | Solar 15" Memphis Fats Plastic | $73.95 |
| 2313-0085 | Clear 15" Memphis Fats Plastic | $68.95 |
| 2313-0086 | Gradient Black 15" Memphis Fats Plastic | $68.95 |
| 2313-0087 | Solar 15" Memphis Fats Plastic | $68.95 |
| MEP1611 | Gradient Black The Shooter Plastic | $66.95 |
| MEP1619 | Solar The Shooter Plastic | $66.95 |
| MEP1711 | Gradient Black Hell Cat Plastic | $76.95 |
| MEP1719 | Solar Hell Cat Plastic | $76.95 |
| MEP2121 | Gradient Black Classic Deuce Plastic | $101.95 |
| MEP2210 | Clear Demon Plastic | $95.95 |
| MEP2211 | Gradient Black Demon Plastic | $95.95 |
| MEP2219 | Solar Demon Plastic | $95.95 |
| MEP3110 | Clear 13" Memphis Fats Plastic | $71.95 |
| MEP3111 | Gradient Black 13" Memphis Fats Plastic | $71.95 |
| MEP3119 | Solar 13" Memphis Fats Plastic | $71.95 |
| MEP3210 | Clear 17" Memphis Fats Plastic | $73.95 |
| MEP3211 | Gradient Black 17" Memphis Fats Plastic | $73.95 |
| MEP3219 | Solar 17" Memphis Fats Plastic | $73.95 |
| MEP3310 | Clear 19" Memphis Fats Plastic | $73.95 |
| MEP3311 | Gradient Black 19" Memphis Fats Plastic | $73.95 |
| MEP3319 | Solar 19" Memphis Fats Plastic | $73.95 |
| MEP3410 | Clear 21" Memphis Fats Plastic | $73.95 |
| MEP3411 | Gradient Black 21" Memphis Fats Plastic | $73.95 |
| MEP3419 | Solar 21" Memphis Fats Plastic | $73.95 |
| MEP4110 | Clear 15" Memphis Slim Plastic | $64.95 |
| MEP4111 | Gradient Black 15" Memphis Slim Plastic | $64.95 |
| MEP4119 | Solar 15" Memphis Slim Plastic | $64.95 |
| MEP4210 | Clear 17" Memphis Slim Plastic | $64.95 |
| MEP4211 | Gradient Black 17" Memphis Slim Plastic | $64.95 |
| MEP4219 | Solar 17" Memphis Slim Plastic | $64.95 |