THE ORIGINAL "POWER TUBE" ATOMIZER
Atomizer power tube and jets are CNC-machined from brass for consistency and accuracy
Power tube jet kits provide fine tuning with increased horsepower when using a less restrictive air cleaner and exhaust
Converts fuel from a squirting liquid to a fine mist
Eliminates spitting and popping through the carburetor
Master kits include slow jets, main jets, slide spring, drill bit and needles
Made in the U.S.A.
THE ORIGINAL "POWER TUBE" ATOMIZER
NOTE: Covered under the following U.S. patent #s: 5,233,180/5,562,868/5,662,836/5,810,264/6,270,060.
DISCLAIMER: NOT LEGAL FOR SALE OR USE IN CALIFORNIA ON ANY POLLUTION CONTROLLED MOTOR VEHICLES.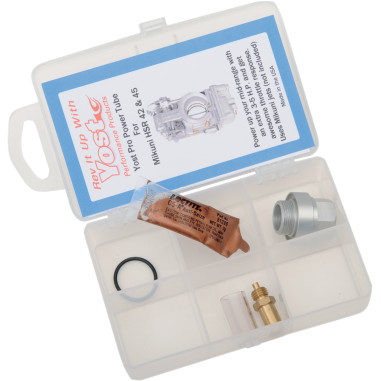 | Part # | Description | Sug. Retail Price |
| --- | --- | --- |
| 1007-0157 | HSR42/45 Power Tube Atomizer Without Jets | $56.95 |
| DS-289075 | Power Tube Atomizer/Jets For HSR42/45 | $60.95 |
| DS-289076 | Power Tube Atomizer 40mm CV Master Kit | $105.95 |
| DS-289120 | The Original Power Tube Atomizer For Super B,D,E & G | $47.95 |
| DS-289121 | 40mm CV Carb Power Tube Atomizer | $85.95 |