HP+ CHAIN DRIVE CAMSHAFT KITS FOR M-EIGHT
Include camshaft, lifters and a cam installation kit that includes the cam bearing and cam/crank hardware
Kit also includes gasket/O-ring kit that allows installation of Feuling Heavy-Duty HP+ .0165" wall one-piece pushrods or factory one-piece pushrods
HP+®​ kits include HP+®​ lifters; Race Series®​ kit includes Race Series®​ lifters
HP+ CHAIN DRIVE CAMSHAFT KITS FOR M-EIGHT
NOTE: Due to the unstable nature of this 4-valve engine design with one rocker arm activating two valve springs, Feuling highly recommends running one-piece pushrods over quick-install adjustable pushrods to maintain maximum cam/valve lift and reduce valvetrain harmonics and associated hydraulic lifter issues.
NOTE: Feuling fastener kit PART #2401-0994 is also highly recommended to help prevent cylinder head cracking; kit replaces the rocker shaft bolts with studs and nuts to help reduce the stress of the rocker shaft standoffs (sold separately); see the Drag Specialties FatBook.
DISCLAIMER: NOT LEGAL FOR SALE OR USE IN CALIFORNIA ON ANY POLLUTION CONTROLLED MOTOR VEHICLES.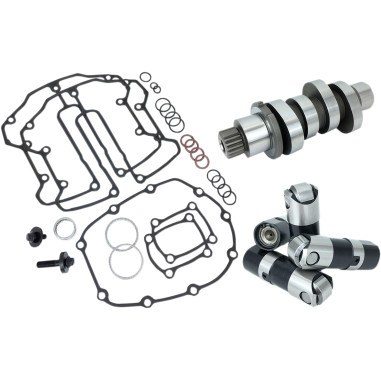 | Part # | Description | Sug. Retail Price |
| --- | --- | --- |
| 0925-1175 | 405 HP+® Camshaft Kit | $499.95 |
| 0925-1176 | 465 HP+® Camshaft Kit | $499.95 |
| 0925-1177 | 465 Race Series® Camshaft Kit | $619.95 |