11/4" CHUBBY® BOBBER HANDLEBARS
Handlebars are 25% thicker than stock
All bars are precision machined (not swage formed) at control mounts, providing perfect fit, form and unsurpassed look
Designed with fluid bends at precise angles for maximum comfort and control
Pre-drilled for internal wiring
31/2​" O.C. mounting points
Work with hydraulic clutch, stock and most custom controls, stock risers and top clamps
Available in show-chrome finish or Blackout series featuring a semi-gloss black finish to match OEM black switch housings
Work with Throttle-By-Wire as well as cable applications
Made in the U.S.A.
11/4" CHUBBY® BOBBER HANDLEBARS
NOTE: All bars work with H-D® heated grips.
NOTE: Not for use with handlebar clamp/gauge mount on 883C/1200C models.
NOTE: Not for FLHT/FLHX models.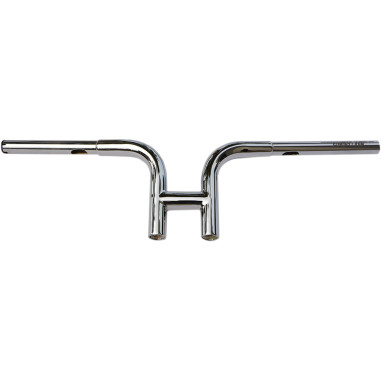 1 1/4" CHUBBY® BOBBER HANDLEBARS