BRAIDED UNIVERSAL BRAKE LINES AND FITTINGS
The industry's highest quality braid in three color choices to compliment your bike; Sterling Chromite® II, Black Pearl and Polished Stainless, the brightest "stainless" braid on the market
Braid color and weave match on all MAGNUM control cables and brake lines
Constructed with PTFE inner tubing, DuPont™​ Kevlar®​ aramid fiber, premium Signature Magnum braids and an outer PVC jacket
Inner PTFE tubing braided with aramid fiber reinforcement greatly reduces line expansion to provide the ultimate in high performance
Crystal-clear outer jacket offers exceptional protection against scuffing paint or chrome and will never discolor
Universal -3 AN fittings, banjos, and manifolds are chrome or black-chrome plated
Banjos are offered in most popular sizes and bend angles
-3 AN Male Mini Tee with bracket and Rear Brake Switch block are available to complete custom builds
Exceeds all DOT FMVSS-106 Specifications
Made in the U.S.A.
BRAIDED UNIVERSAL BRAKE LINES AND FITTINGS
NOTE: For banjo bolts, see page ??? and for crush washers, see page ???.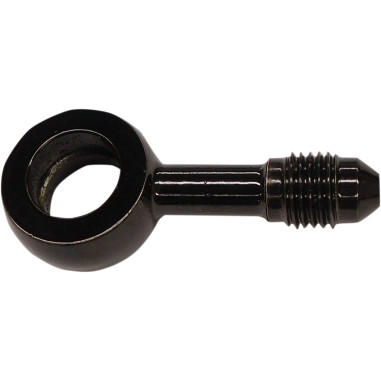 | Part # | Description | Sug. Retail Price |
| --- | --- | --- |
| 1742-0465 | 3/8" Chrome 90° Banjo Fitting | $10.95 |
| 1742-0466 | 3/8" Chrome 35° Banjo Fitting | $10.95 |
| 1742-0467 | 7/16" Chrome 180° Banjo Fitting | $10.95 |
| 1742-0468 | 3/8" Chrome 90° Banjo Fitting | $10.95 |
| 1742-0469 | 3/8" Chrome 45° Banjo Fitting | $10.95 |
| 1742-0470 | 7/16" Chrome 90° Banjo Fitting | $10.95 |
| 1742-0471 | 3/8" Chrome 180° Banjo Fitting | $10.95 |
| 1742-0472 | 7/16" Chrome 35° Banjo Fitting | $10.95 |
| 1742-0475 | 3/8" Black 90° Banjo Fitting | $13.95 |
| 1742-0476 | 3/8" Black 35° Banjo Fitting | $13.95 |
| 1742-0477 | 7/16" Black 180° Banjo Fitting | $13.95 |
| 1742-0478 | 3/8" Black 60° Banjo Fitting | $13.95 |
| 1742-0479 | 3/8" Black 45° Banjo Fitting | $13.95 |
| 1742-0480 | 7/16" Black 90° Banjo Fitting | $13.95 |
| 1742-0481 | 3/8" Black 180° Banjo Fitting | $13.95 |
| 1742-0482 | 7/16" Black 35° Banjo Fitting | $13.95 |
| Part # | Description | Sug. Retail Price |
| --- | --- | --- |
| 1741-0994 | Black Pearl Braided Universal Brake Line | $43.95 |
| 1741-0995 | Black Pearl Braided Universal Brake Line | $45.95 |
| 1741-0996 | Black Pearl Braided Universal Brake Line | $46.95 |
| 1741-0997 | Black Pearl Braided Universal Brake Line | $47.95 |
| 1741-0998 | Black Pearl Braided Universal Brake Line | $48.95 |
| 1741-0999 | Black Pearl Braided Universal Brake Line | $49.95 |
| 1741-1000 | Black Pearl Braided Universal Brake Line | $51.95 |
| 1741-1001 | Black Pearl Braided Universal Brake Line | $52.95 |
| 1741-1002 | Black Pearl Braided Universal Brake Line | $53.95 |
| 1741-1003 | Black Pearl Braided Universal Brake Line | $54.95 |
| 1741-1004 | Black Pearl Braided Universal Brake Line | $55.95 |
| 1741-1005 | Black Pearl Braided Universal Brake Line | $56.95 |
| 1741-1006 | Black Pearl Braided Universal Brake Line | $57.95 |
| 1741-1007 | Black Pearl Braided Universal Brake Line | $59.95 |
| 1741-1008 | Black Pearl Braided Universal Brake Line | $60.95 |
| 1741-1009 | Black Pearl Braided Universal Brake Line | $61.95 |
| 1741-1010 | Black Pearl Braided Universal Brake Line | $61.95 |
| 1741-1011 | Black Pearl Braided Universal Brake Line | $62.95 |
| 1741-1012 | Black Pearl Braided Universal Brake Line | $63.95 |
| 1741-1013 | Black Pearl Braided Universal Brake Line | $65.95 |
| 1741-1014 | Black Pearl Braided Universal Brake Line | $66.95 |
| 1741-1015 | Black Pearl Braided Universal Brake Line | $67.95 |
| 1741-1016 | Black Pearl Braided Universal Brake Line | $69.95 |
| 1741-1017 | Black Pearl Braided Universal Brake Line | $70.95 |
| 1741-1018 | Black Pearl Braided Universal Brake Line | $71.95 |
| 1741-1019 | Black Pearl Braided Universal Brake Line | $72.95 |
| 1741-1020 | Black Pearl Braided Universal Brake Line | $73.95 |
| 1741-1021 | Black Pearl Braided Universal Brake Line | $74.95 |
| 1741-1022 | Black Pearl Braided Universal Brake Line | $76.95 |
| 1741-1023 | Black Pearl Braided Universal Brake Line | $77.95 |
| 1741-1024 | Black Pearl Braided Universal Brake Line | $78.95 |
| 1741-1025 | Black Pearl Braided Universal Brake Line | $80.95 |
| 1741-1026 | Black Pearl Braided Universal Brake Line | $81.95 |
| 1741-1029 | Polished Stainless Braided Universal Brake Line | $42.95 |
| 1741-1030 | Polished Stainless Braided Universal Brake Line | $43.95 |
| 1741-1031 | Polished Stainless Braided Universal Brake Line | $45.95 |
| 1741-1032 | Polished Stainless Braided Universal Brake Line | $46.95 |
| 1741-1033 | Polished Stainless Braided Universal Brake Line | $47.95 |
| 1741-1034 | Polished Stainless Braided Universal Brake Line | $48.95 |
| 1741-1035 | Polished Stainless Braided Universal Brake Line | $49.95 |
| 1741-1036 | Polished Stainless Braided Universal Brake Line | $51.95 |
| 1741-1037 | Polished Stainless Braided Universal Brake Line | $52.95 |
| 1741-1038 | Polished Stainless Braided Universal Brake Line | $53.95 |
| 1741-1039 | Polished Stainless Braided Universal Brake Line | $54.95 |
| 1741-1040 | Polished Stainless Braided Universal Brake Line | $55.95 |
| 1741-1042 | Polished Stainless Braided Universal Brake Line | $57.95 |
| 1741-1043 | Polished Stainless Braided Universal Brake Line | $59.95 |
| 1741-1044 | Polished Stainless Braided Universal Brake Line | $60.95 |
| 1741-1045 | Polished Stainless Braided Universal Brake Line | $61.95 |
| 1741-1047 | Polished Stainless Braided Universal Brake Line | $62.95 |
| 1741-1048 | Polished Stainless Braided Universal Brake Line | $63.95 |
| 1741-1049 | Polished Stainless Braided Universal Brake Line | $65.95 |
| 1741-1050 | Polished Stainless Braided Universal Brake Line | $66.95 |
| 1741-1051 | Polished Stainless Braided Universal Brake Line | $67.95 |
| 1741-1052 | Polished Stainless Braided Universal Brake Line | $69.95 |
| 1741-1053 | Polished Stainless Braided Universal Brake Line | $70.95 |
| 1741-1057 | Polished Stainless Braided Universal Brake Line | $74.95 |
| 1741-1631 | Black Pearl Braided Universal Brake Line | $40.95 |
| 1741-1632 | Black Pearl Braided Universal Brake Line | $41.95 |
| 1741-1633 | Black Pearl Braided Universal Brake Line | $42.95 |
| DS3509 | Sterling Chromite® II Braided Universal Brake Line | $40.95 |
| DS3512 | Sterling Chromite® II Braided Universal Brake Line | $41.95 |
| DS3515 | Sterling Chromite® II Braided Universal Brake Line | $42.95 |
| DS3517 | Sterling Chromite® II Braided Universal Brake Line | $43.95 |
| DS3519 | Sterling Chromite® II Braided Universal Brake Line | $45.95 |
| DS3521 | Sterling Chromite® II Braided Universal Brake Line | $46.95 |
| DS3523 | Sterling Chromite® II Braided Universal Brake Line | $47.95 |
| DS3525 | Sterling Chromite® II Braided Universal Brake Line | $48.95 |
| DS3526 | Sterling Chromite® II Braided Universal Brake Line | $49.95 |
| DS3528 | Sterling Chromite® II Braided Universal Brake Line | $51.95 |
| DS3530 | Sterling Chromite® II Braided Universal Brake Line | $52.95 |
| DS3532 | Sterling Chromite® II Braided Universal Brake Line | $53.95 |
| DS3534 | Sterling Chromite® II Braided Universal Brake Line | $54.95 |
| DS3536 | Sterling Chromite® II Braided Universal Brake Line | $55.95 |
| DS3538 | Sterling Chromite® II Braided Universal Brake Line | $56.95 |
| DS3540 | Sterling Chromite® II Braided Universal Brake Line | $57.95 |
| DS3542 | Sterling Chromite® II Braided Universal Brake Line | $59.95 |
| DS3544 | Sterling Chromite® II Braided Universal Brake Line | $60.95 |
| DS3546 | Sterling Chromite® II Braided Universal Brake Line | $61.95 |
| DS3547 | Sterling Chromite® II Braided Universal Brake Line | $61.95 |
| DS3548 | Sterling Chromite® II Braided Universal Brake Line | $62.95 |
| DS3550 | Sterling Chromite® II Braided Universal Brake Line | $63.95 |
| DS3552 | Sterling Chromite® II Braided Universal Brake Line | $65.95 |
| DS3554 | Sterling Chromite® II Braided Universal Brake Line | $66.95 |
| DS3556 | Sterling Chromite® II Braided Universal Brake Line | $67.95 |
| DS3558 | Sterling Chromite® II Braided Universal Brake Line | $69.95 |
| DS3560 | Sterling Chromite® II Braided Universal Brake Line | $70.95 |
| DS3562 | Sterling Chromite® II Braided Universal Brake Line | $71.95 |
| DS3564 | Sterling Chromite® II Braided Universal Brake Line | $72.95 |
| DS3566 | Sterling Chromite® II Braided Universal Brake Line | $73.95 |
| DS3568 | Sterling Chromite® II Braided Universal Brake Line | $74.95 |
| DS3570 | Sterling Chromite® II Braided Universal Brake Line | $76.95 |
| DS3572 | Sterling Chromite® II Braided Universal Brake Line | $77.95 |
| DS3574 | Sterling Chromite® II Braided Universal Brake Line | $78.95 |
| DS3576 | Sterling Chromite® II Braided Universal Brake Line | $80.95 |
| DS3578 | Sterling Chromite® II Braided Universal Brake Line | $81.95 |
| Part # | Description | Sug. Retail Price |
| --- | --- | --- |
| 1742-0473 | Chrome AN-3 Rear Switch Block | $19.95 |
| 1742-0474 | Chrome AN-3 T-Block With Bracket | $19.95 |
| 1742-0483 | Black AN-3 Rear Switch Block | $23.95 |
| 1742-0484 | Black Chrome AN-3 T-Block With Bracket | $24.95 |