BRAIDED UNIVERSAL BRAKE LINES
The industry's best braid and available in three color choices to complement your bike
Sterling Chromite® II uses patented technology to look like chrome
Black Pearl has a true black wire braid with black-chrome fittings
Polished Stainless braid is brighter than standard stainless
Braid color and weave matches on all Magnum control cables and brake lines
Crystal-clear outer jacket offers exceptional protection against scuffing paint or chrome and will never discolor
Universal AN -3 fittings are chrome or black chrome-plated
Inner PTFE tubing with 100% Kevlar® coverage provides the ultimate in high performance by greatly reducing line expansion for excellent brake control and safety ratings
Exceeds all DOT FMVSS-106 Specifications
Made in the U.S.A.
NOTE: For banjo bolts, fittings and crush washers see page ???.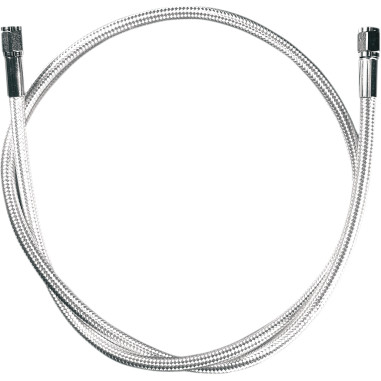 | Part # | Description | Sug. Retail Price |
| --- | --- | --- |
| 1741-0994 | Black Pearl Braided Universal Brake Line | $43.95 |
| 1741-0995 | Black Pearl Braided Universal Brake Line | $45.95 |
| 1741-0996 | Black Pearl Braided Universal Brake Line | $46.95 |
| 1741-0997 | Black Pearl Braided Universal Brake Line | $47.95 |
| 1741-0998 | Black Pearl Braided Universal Brake Line | $48.95 |
| 1741-0999 | Black Pearl Braided Universal Brake Line | $49.95 |
| 1741-1000 | Black Pearl Braided Universal Brake Line | $50.95 |
| 1741-1001 | Black Pearl Braided Universal Brake Line | $51.95 |
| 1741-1002 | Black Pearl Braided Universal Brake Line | $52.95 |
| 1741-1003 | Black Pearl Braided Universal Brake Line | $53.95 |
| 1741-1004 | Black Pearl Braided Universal Brake Line | $54.95 |
| 1741-1005 | Black Pearl Braided Universal Brake Line | $55.95 |
| 1741-1006 | Black Pearl Braided Universal Brake Line | $56.95 |
| 1741-1007 | Black Pearl Braided Universal Brake Line | $58.95 |
| 1741-1008 | Black Pearl Braided Universal Brake Line | $59.95 |
| 1741-1009 | Black Pearl Braided Universal Brake Line | $60.95 |
| 1741-1010 | Black Pearl Braided Universal Brake Line | $60.95 |
| 1741-1011 | Black Pearl Braided Universal Brake Line | $61.95 |
| 1741-1012 | Black Pearl Braided Universal Brake Line | $62.95 |
| 1741-1013 | Black Pearl Braided Universal Brake Line | $64.95 |
| 1741-1014 | Black Pearl Braided Universal Brake Line | $65.95 |
| 1741-1015 | Black Pearl Braided Universal Brake Line | $66.95 |
| 1741-1016 | Black Pearl Braided Universal Brake Line | $68.95 |
| 1741-1017 | Black Pearl Braided Universal Brake Line | $69.95 |
| 1741-1018 | Black Pearl Braided Universal Brake Line | $70.95 |
| 1741-1019 | Black Pearl Braided Universal Brake Line | $71.95 |
| 1741-1020 | Black Pearl Braided Universal Brake Line | $72.95 |
| 1741-1021 | Black Pearl Braided Universal Brake Line | $73.95 |
| 1741-1022 | Black Pearl Braided Universal Brake Line | $75.95 |
| 1741-1023 | Black Pearl Braided Universal Brake Line | $76.95 |
| 1741-1024 | Black Pearl Braided Universal Brake Line | $77.95 |
| 1741-1025 | Black Pearl Braided Universal Brake Line | $79.95 |
| 1741-1026 | Black Pearl Braided Universal Brake Line | $80.95 |
| 1741-1028 | Polished Stainless Braided Universal Brake Line | $41.95 |
| 1741-1029 | Polished Stainless Braided Universal Brake Line | $42.95 |
| 1741-1030 | Polished Stainless Braided Universal Brake Line | $43.95 |
| 1741-1031 | Polished Stainless Braided Universal Brake Line | $45.95 |
| 1741-1032 | Polished Stainless Braided Universal Brake Line | $46.95 |
| 1741-1033 | Polished Stainless Braided Universal Brake Line | $47.95 |
| 1741-1034 | Polished Stainless Braided Universal Brake Line | $48.95 |
| 1741-1035 | Polished Stainless Braided Universal Brake Line | $49.95 |
| 1741-1036 | Polished Stainless Braided Universal Brake Line | $50.95 |
| 1741-1037 | Polished Stainless Braided Universal Brake Line | $51.95 |
| 1741-1038 | Polished Stainless Braided Universal Brake Line | $52.95 |
| 1741-1039 | Polished Stainless Braided Universal Brake Line | $53.95 |
| 1741-1040 | Polished Stainless Braided Universal Brake Line | $54.95 |
| 1741-1041 | Polished Stainless Braided Universal Brake Line | $55.95 |
| 1741-1042 | Polished Stainless Braided Universal Brake Line | $56.95 |
| 1741-1043 | Polished Stainless Braided Universal Brake Line | $58.95 |
| 1741-1044 | Polished Stainless Braided Universal Brake Line | $59.95 |
| 1741-1045 | Polished Stainless Braided Universal Brake Line | $60.95 |
| 1741-1046 | Polished Stainless Braided Universal Brake Line | $60.95 |
| 1741-1047 | Polished Stainless Braided Universal Brake Line | $61.95 |
| 1741-1048 | Polished Stainless Braided Universal Brake Line | $62.95 |
| 1741-1049 | Polished Stainless Braided Universal Brake Line | $64.95 |
| 1741-1050 | Polished Stainless Braided Universal Brake Line | $65.95 |
| 1741-1051 | Polished Stainless Braided Universal Brake Line | $66.95 |
| 1741-1052 | Polished Stainless Braided Universal Brake Line | $68.95 |
| 1741-1053 | Polished Stainless Braided Universal Brake Line | $69.95 |
| 1741-1054 | Polished Stainless Braided Universal Brake Line | $70.95 |
| 1741-1055 | Polished Stainless Braided Universal Brake Line | $71.95 |
| 1741-1056 | Polished Stainless Braided Universal Brake Line | $72.95 |
| 1741-1057 | Polished Stainless Braided Universal Brake Line | $73.95 |
| 1741-1058 | Polished Stainless Braided Universal Brake Line | $75.95 |
| 1741-1061 | Polished Stainless Braided Universal Brake Line | $79.95 |
| 1741-1062 | Polished Stainless Braided Universal Brake Line | $80.95 |
| 1741-1631 | Black Pearl Braided Universal Brake Line | $40.95 |
| 1741-1632 | Black Pearl Braided Universal Brake Line | $41.95 |
| 1741-1633 | Black Pearl Braided Universal Brake Line | $42.95 |
| DS3509 | Sterling Chromite® II Braided Universal Brake Line | $39.95 |
| DS3512 | Sterling Chromite® II Braided Universal Brake Line | $40.95 |
| DS3515 | Sterling Chromite® II Braided Universal Brake Line | $41.95 |
| DS3517 | Sterling Chromite® II Braided Universal Brake Line | $42.95 |
| DS3519 | Sterling Chromite® II Braided Universal Brake Line | $44.95 |
| DS3521 | Sterling Chromite® II Braided Universal Brake Line | $45.95 |
| DS3523 | Sterling Chromite® II Braided Universal Brake Line | $46.95 |
| DS3525 | Sterling Chromite® II Braided Universal Brake Line | $47.95 |
| DS3526 | Sterling Chromite® II Braided Universal Brake Line | $48.95 |
| DS3528 | Sterling Chromite® II Braided Universal Brake Line | $49.95 |
| DS3530 | Sterling Chromite® II Braided Universal Brake Line | $50.95 |
| DS3532 | Sterling Chromite® II Braided Universal Brake Line | $51.95 |
| DS3534 | Sterling Chromite® II Braided Universal Brake Line | $52.95 |
| DS3536 | Sterling Chromite® II Braided Universal Brake Line | $53.95 |
| DS3538 | Sterling Chromite® II Braided Universal Brake Line | $54.95 |
| DS3540 | Sterling Chromite® II Braided Universal Brake Line | $55.95 |
| DS3542 | Sterling Chromite® II Braided Universal Brake Line | $57.95 |
| DS3544 | Sterling Chromite® II Braided Universal Brake Line | $58.95 |
| DS3546 | Sterling Chromite® II Braided Universal Brake Line | $59.95 |
| DS3547 | Sterling Chromite® II Braided Universal Brake Line | $60.95 |
| DS3548 | Sterling Chromite® II Braided Universal Brake Line | $60.95 |
| DS3550 | Sterling Chromite® II Braided Universal Brake Line | $61.95 |
| DS3552 | Sterling Chromite® II Braided Universal Brake Line | $63.95 |
| DS3554 | Sterling Chromite® II Braided Universal Brake Line | $64.95 |
| DS3556 | Sterling Chromite® II Braided Universal Brake Line | $65.95 |
| DS3558 | Sterling Chromite® II Braided Universal Brake Line | $67.95 |
| DS3560 | Sterling Chromite® II Braided Universal Brake Line | $68.95 |
| DS3562 | Sterling Chromite® II Braided Universal Brake Line | $69.95 |
| DS3564 | Sterling Chromite® II Braided Universal Brake Line | $70.95 |
| DS3566 | Sterling Chromite® II Braided Universal Brake Line | $71.95 |
| DS3568 | Sterling Chromite® II Braided Universal Brake Line | $72.95 |
| DS3570 | Sterling Chromite® II Braided Universal Brake Line | $74.95 |
| DS3572 | Sterling Chromite® II Braided Universal Brake Line | $75.95 |
| DS3574 | Sterling Chromite® II Braided Universal Brake Line | $76.95 |
| DS3576 | Sterling Chromite® II Braided Universal Brake Line | $77.95 |
| DS3578 | Sterling Chromite® II Braided Universal Brake Line | $78.95 |