UNIVERSAL BRAKE LINE AND FITTINGS
Universal, black 3/16" o.d. nylon brake lines; ideal for custom fabrication
Semi-rigid nylon construction offers unparalleled flexibility, allowing the builder ultimate control
Compression-type chrome fittings with unique concave design
Line and fittings also work great for custom hydraulic clutch applications
For off-road and show use only; not DOT certified
Fittings made from steel, not brass
Line and fittings sold separately
Made in the U.S.A.
NOTE: 04-13 XL models use metric 10mm x 1.25" and 12mm x 1.50" banjo bolts, washers and fittings. All Big Twin (except 08-14 Dressers) and pre-04 XL models use standard 3/8" and 7/16" banjo bolts, washers and fittings. Fittings and washers listed as 3/8"/10mm can be used in either application.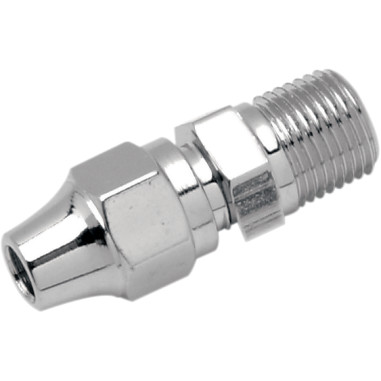 | Part # | Description | Sug. Retail Price |
| --- | --- | --- |
| 1740-0001 | Universal Nylon Brake Line | $30.95 |
| 1740-0002 | Universal Nylon Brake Line | $62.95 |
Universal Brake Line and Fittings
| Part # | Description | Sug. Retail Price |
| --- | --- | --- |
| 1742-0369 | Chrome Universal Banjo Bolt | $12.95 |
| 1742-0370 | Chrome Universal Banjo Bolt | $12.95 |
| Part # | Description | Sug. Retail Price |
| --- | --- | --- |
| 1742-0061 | Chrome Universal Brake Fitting | $16.95 |
| 1742-0062 | Chrome Universal Brake Fitting | $16.95 |
| 1742-0063 | Chrome Universal Brake Fitting | $16.95 |
| 1742-0064 | Chrome Universal Brake Fitting | $16.95 |
| 1742-0065 | Chrome Universal Brake Fitting | $16.95 |
| 1742-0066 | Chrome Universal Brake Fitting | $16.95 |
| 1742-0067 | Universal Replacement Ferrules | $1.95 |
| 1742-0104 | Chrome Universal Brake Fitting | $11.95 |
| 1742-0105 | Chrome Universal Brake Fitting | $11.95 |
| 1742-0106 | Chrome Universal Brake Fitting | $11.95 |
| 1742-0107 | Chrome Universal Brake Fitting | $11.95 |
| 1742-0108 | Chrome Universal Brake Fitting | $11.95 |
| 1742-0109 | Chrome Universal Brake Fitting | $11.95 |