ONE-PIECE FORGED ALUMINUM WHEELS
Made from the highest-quality forged aluminum to create a strong and durable wheel
CNC-machined and quality tested to ensure finest product possible
Drifter, Nitro, Savage and Czar are available in a chrome finish
Savage and Czar are also available in Eclipse finish which combines black powder-coat and raw metal for a truly evil look
Made in the U.S.A.
NOTE: 1-piece rotors are not recommended for front 08-13 FLHT applications.
NOTE: Matching belt pulleys and brake rotors available; see the TRANSMISSION & DRIVELINE and BRAKES sections.
NOTE: 16 x 3.5" and 18" x 3.5" rear wheels for 84-99 FLT, FLHT, FLHR, and FLHS require the use of RC Components rear brake adapter when using stock rotor.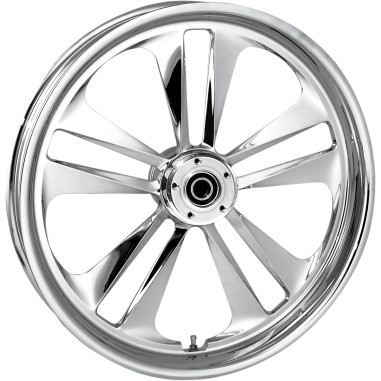 | Part # | Description | Sug. Retail Price |
| --- | --- | --- |
| 0201-0907 | Chrome One-Piece Forged Aluminum Front Wheel | $1,250.95 |
| 0201-0908 | Chrome One-Piece Forged Aluminum Front Wheel | $1,250.95 |
| 0201-0910 | Chrome One-Piece Forged Aluminum Front Wheel | $1,250.95 |
| 0201-0911 | Chrome One-Piece Forged Aluminum Front Wheel | $1,250.95 |
| 0201-0917 | Chrome One-Piece Forged Aluminum Front Wheel | $1,300.95 |
| 0201-0919 | Chrome One-Piece Forged Aluminum Front Wheel | $1,300.95 |
| 0201-0952 | Chrome One-Piece Forged Aluminum Front Wheel | $1,300.95 |
| 0201-0954 | Chrome One-Piece Forged Aluminum Front Wheel | $1,300.95 |
| 0201-0961 | Chrome One-Piece Forged Aluminum Front Wheel | $1,300.95 |
| 0201-0962 | Chrome One-Piece Forged Aluminum Front Wheel | $1,300.95 |
| 0201-1132 | Chrome One-Piece Forged Aluminum Front Wheel | $1,340.95 |
| 0201-1241 | Eclipse One-Piece Forged Aluminum Front Wheel | $1,250.95 |
| 0201-1242 | Eclipse One-Piece Forged Aluminum Front Wheel | $1,250.95 |
| 0201-1244 | Eclipse One-Piece Forged Aluminum Front Wheel | $1,250.95 |
| 0201-1245 | Eclipse One-Piece Forged Aluminum Front Wheel | $1,250.95 |
| 0201-1249 | Eclipse One-Piece Forged Aluminum Front Wheel | $1,300.95 |
| 0201-1250 | Eclipse One-Piece Forged Aluminum Front Wheel | $1,300.95 |
| 0201-1251 | Eclipse One-Piece Forged Aluminum Front Wheel | $1,300.95 |
| 0201-1255 | Eclipse One-Piece Forged Aluminum Front Wheel | $1,300.95 |
| 0201-1256 | Eclipse One-Piece Forged Aluminum Front Wheel | $1,300.95 |
| 0201-1259 | Eclipse One-Piece Forged Aluminum Front Wheel | $1,300.95 |
| 0201-1260 | Eclipse One-Piece Forged Aluminum Front Wheel | $1,300.95 |
| 0201-1267 | Eclipse One-Piece Forged Aluminum Front Wheel | $1,340.95 |
| 0201-1423 | Chrome One-Piece Forged Aluminum Front Wheel | $1,250.95 |
| 0201-1425 | Chrome One-Piece Forged Aluminum Front Wheel | $1,250.95 |
| 0201-1426 | Chrome One-Piece Forged Aluminum Front Wheel | $1,250.95 |
| 0201-1427 | Chrome One-Piece Forged Aluminum Front Wheel | $1,300.95 |
| 0201-1428 | Chrome One-Piece Forged Aluminum Front Wheel | $1,300.95 |
| 0201-1430 | Chrome One-Piece Forged Aluminum Front Wheel | $1,300.95 |
| 0201-1431 | Chrome One-Piece Forged Aluminum Front Wheel | $1,300.95 |
| 0201-1433 | Chrome One-Piece Forged Aluminum Front Wheel | $1,300.95 |
| 0201-1434 | Chrome One-Piece Forged Aluminum Front Wheel | $1,300.95 |
| 0201-1439 | Chrome One-Piece Forged Aluminum Front Wheel | $1,340.95 |
| 0201-1441 | Chrome One-Piece Forged Aluminum Front Wheel | $1,250.95 |
| 0201-1442 | Chrome One-Piece Forged Aluminum Front Wheel | $1,250.95 |
| 0201-1443 | Chrome One-Piece Forged Aluminum Front Wheel | $1,250.95 |
| 0201-1444 | Chrome One-Piece Forged Aluminum Front Wheel | $1,250.95 |
| 0201-1445 | Chrome One-Piece Forged Aluminum Front Wheel | $1,300.95 |
| 0201-1446 | Chrome One-Piece Forged Aluminum Front Wheel | $1,300.95 |
| 0201-1447 | Chrome One-Piece Forged Aluminum Front Wheel | $1,300.95 |
| 0201-1448 | Chrome One-Piece Forged Aluminum Front Wheel | $1,300.95 |
| 0201-1449 | Chrome One-Piece Forged Aluminum Front Wheel | $1,300.95 |
| 0201-1451 | Chrome One-Piece Forged Aluminum Front Wheel | $1,300.95 |
| 0201-1457 | Chrome One-Piece Forged Aluminum Front Wheel | $1,340.95 |
| 0201-1459 | Chrome One-Piece Forged Aluminum Front Wheel | $1,646.95 |
| 0201-1460 | Chrome One-Piece Forged Aluminum Front Wheel | $1,646.95 |
| 0201-1461 | Eclipse One-Piece Forged Aluminum Front Wheel | $1,646.95 |
| 0201-1464 | Chrome One-Piece Forged Aluminum Front Wheel | $1,646.95 |
| 0201-1465 | Chrome One-Piece Forged Aluminum Front Wheel | $1,686.95 |
| 0201-1466 | Chrome One-Piece Forged Aluminum Front Wheel | $1,686.95 |
| 0201-1467 | Eclipse One-Piece Forged Aluminum Front Wheel | $1,686.95 |
| 0201-1470 | Chrome One-Piece Forged Aluminum Front Wheel | $1,686.95 |
| 0201-1472 | Chrome One-Piece Forged Aluminum Front Wheel | $1,646.95 |
| 0201-1473 | Eclipse One-Piece Forged Aluminum Front Wheel | $1,646.95 |
| 0201-1476 | Chrome One-Piece Forged Aluminum Front Wheel | $1,646.95 |
| 0201-1477 | Chrome One-Piece Forged Aluminum Front Wheel | $1,686.95 |
| 0201-1478 | Chrome One-Piece Forged Aluminum Front Wheel | $1,686.95 |
| 0201-1479 | Eclipse One-Piece Forged Aluminum Front Wheel | $1,686.95 |
| 0201-1485 | Eclipse One-Piece Forged Aluminum Front Wheel | $1,646.95 |
| 0201-1488 | Chrome One-Piece Forged Aluminum Front Wheel | $1,646.95 |
| 0201-1490 | Chrome One-Piece Forged Aluminum Front Wheel | $1,646.95 |
| 0201-1491 | Eclipse One-Piece Forged Aluminum Front Wheel | $1,646.95 |
| Part # | Description | Sug. Retail Price |
| --- | --- | --- |
| 0202-0942 | Chrome One-Piece Forged Aluminum Rear Wheel | $1,250.95 |
| 0202-0943 | Chrome One-Piece Forged Aluminum Rear Wheel | $1,250.95 |
| 0202-0944 | Chrome One-Piece Forged Aluminum Rear Wheel | $1,250.95 |
| 0202-0945 | Chrome One-Piece Forged Aluminum Rear Wheel | $1,250.95 |
| 0202-0951 | Chrome One-Piece Forged Aluminum Rear Wheel | $1,250.95 |
| 0202-0954 | Chrome One-Piece Forged Aluminum Rear Wheel | $1,250.95 |
| 0202-1017 | Chrome One-Piece Forged Aluminum Rear Wheel | $1,300.95 |
| 0202-1212 | Chrome One-Piece Forged Aluminum Rear Wheel | $1,390.95 |
| 0202-1232 | Chrome One-Piece Forged Aluminum Rear Wheel | $1,350.95 |
| 0202-1424 | Eclipse One-Piece Forged Aluminum Rear Wheel | $1,250.95 |
| 0202-1425 | Eclipse One-Piece Forged Aluminum Rear Wheel | $1,250.95 |
| 0202-1426 | Eclipse One-Piece Forged Aluminum Rear Wheel | $1,250.95 |
| 0202-1429 | Eclipse One-Piece Forged Aluminum Rear Wheel | $1,250.95 |
| 0202-1430 | Eclipse One-Piece Forged Aluminum Rear Wheel | $1,250.95 |
| 0202-1446 | Eclipse One-Piece Forged Aluminum Rear Wheel | $1,300.95 |
| 0202-1449 | Eclipse One-Piece Forged Aluminum Rear Wheel | $1,390.95 |
| 0202-1451 | Eclipse One-Piece Forged Aluminum Rear Wheel | $1,350.95 |
| 0202-1493 | Chrome One-Piece Forged Aluminum Rear Wheel | $1,350.95 |
| 0202-1494 | Eclipse One-Piece Forged Aluminum Rear Wheel | $1,350.95 |
| 0202-1495 | Chrome One-Piece Forged Aluminum Rear Wheel | $1,390.95 |
| 0202-1496 | Eclipse One-Piece Forged Aluminum Rear Wheel | $1,390.95 |
| 0202-1606 | Chrome One-Piece Forged Aluminum Rear Wheel | $1,250.95 |
| 0202-1607 | Chrome One-Piece Forged Aluminum Rear Wheel | $1,250.95 |
| 0202-1608 | Chrome One-Piece Forged Aluminum Rear Wheel | $1,250.95 |
| 0202-1609 | Chrome One-Piece Forged Aluminum Rear Wheel | $1,250.95 |
| 0202-1611 | Chrome One-Piece Forged Aluminum Rear Wheel | $1,250.95 |
| 0202-1612 | Chrome One-Piece Forged Aluminum Rear Wheel | $1,250.95 |
| 0202-1621 | Chrome One-Piece Forged Aluminum Rear Wheel | $1,300.95 |
| 0202-1622 | Chrome One-Piece Forged Aluminum Rear Wheel | $1,390.95 |
| 0202-1623 | Chrome One-Piece Forged Aluminum Rear Wheel | $1,350.95 |
| 0202-1625 | Chrome One-Piece Forged Aluminum Rear Wheel | $1,350.95 |
| 0202-1626 | Chrome One-Piece Forged Aluminum Rear Wheel | $1,390.95 |
| 0202-1628 | Chrome One-Piece Forged Aluminum Rear Wheel | $1,250.95 |
| 0202-1629 | Chrome One-Piece Forged Aluminum Rear Wheel | $1,250.95 |
| 0202-1630 | Chrome One-Piece Forged Aluminum Rear Wheel | $1,250.95 |
| 0202-1631 | Chrome One-Piece Forged Aluminum Rear Wheel | $1,250.95 |
| 0202-1633 | Chrome One-Piece Forged Aluminum Rear Wheel | $1,250.95 |
| 0202-1643 | Chrome One-Piece Forged Aluminum Rear Wheel | $1,300.95 |
| 0202-1644 | Chrome One-Piece Forged Aluminum Rear Wheel | $1,390.95 |
| 0202-1645 | Chrome One-Piece Forged Aluminum Rear Wheel | $1,350.95 |
| 0202-1647 | Chrome One-Piece Forged Aluminum Rear Wheel | $1,350.95 |
| 0202-1648 | Chrome One-Piece Forged Aluminum Rear Wheel | $1,390.95 |
| Part # | Description | Sug. Retail Price |
| --- | --- | --- |
| 1704-0219 | Forged Aluminum Wheel Rear Brake Adapter | $57.95 |