41MM TRIPLE TREES
Chrome-plated, CNC-machined billet aluminum
Stem threads into underside of top triple tree for cleaner look
Available in a smooth or radius groove design
Made in the U.S.A.
NOTE: Raked triple trees change the handling characteristics of the motorcycle. Steering geometry must be calculated to determine which degree of rake is most suited for your application. Trees with more than 3° of rake should not be used in stock frame applications.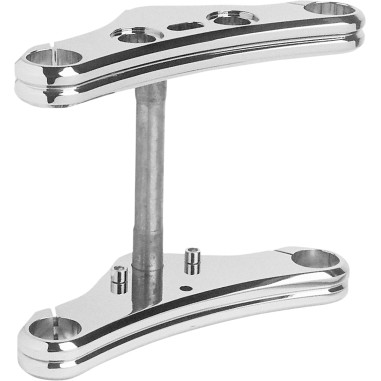 | Part # | Description | Sug. Retail Price |
| --- | --- | --- |
| 0408-0281 | Night Series Smooth Elite Triple Trees | $587.95 |
| 2406-5415 | Chrome Smooth Elite Triple Trees | $587.95 |
| 2406-7417 | Chrome Smooth Elite Triple Trees | $591.95 |
| DS-222230 | Chrome Radius Groove Elite Triple Trees | $591.95 |
| DS-222231 | Chrome Radius Groove Elite Triple Trees | $587.95 |
| DS-222530 | Chrome Radius Groove Elite Triple Trees | $506.95 |