+P BAGGER STEPPED TRUE-DUALS SYSTEMS WITH POWER CURVE
Features equal length 1 3/4" into 1 7/8" step headpipes with 4" straight muffler style
Include 12mm and 18mm oxygen sensor ports and plugs
Include full coverage headpipe heat shields
Produce a distinctive "stereo-friendly sound"
B1 style muffler utilizes advanced inner collector for maximum performance
Made in the U.S.A.
NOTE: 10 FLHX/FLTRX models will require PART #1861-0573 to properly mount.
DISCLAIMER: NOT LEGAL FOR SALE OR USE IN CALIFORNIA ON ANY POLLUTION CONTROLLED MOTOR VEHICLES.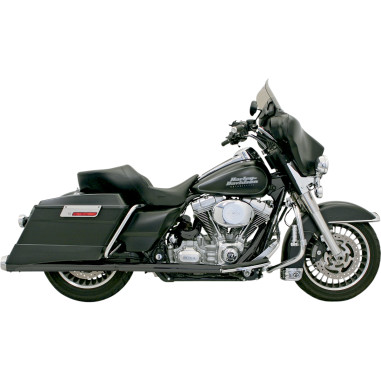 +p Bagger Stepped True-Duals Systems With Power Curve
| Part # | Description | Sug. Retail Price |
| --- | --- | --- |
| 1800-1363 | Black/Black/Natural +P Bagger Stepped True-Duals With Power Curve | $1,099.95 |
| 1800-1364 | Chrome/Black/Natural +P Bagger Stepped True-Duals With Power Curve | $994.95 |
| 1800-1365 | Black/Black/Natural +P Bagger Stepped True-Duals With Power Curve | $1,099.95 |
| Part # | Description | Sug. Retail Price |
| --- | --- | --- |
| 1800-1301 | Chrome/Black +P Bagger Stepped True-Duals With Power Curve Megaphone | $999.95 |
+P Bagger Stepped True-Duals System with Power Curve
| Part # | Description | Sug. Retail Price |
| --- | --- | --- |
| 1800-1288 | Chrome/Polished +P Bagger Stepped True-Duals With Power Curve | $999.95 |