STANDARD AND ADJUSTABLE SERRATED BILLET FOOTPEGS AND SHIFTER PEGS
Give your bike a unique design twist with these all-billet aluminum serrated footpegs
Fully CNC-machined from solid 6061 T-6 bar
Superstrong, yet lightweight two-piece construction
The comfortable serrated foot surface area gives you a wider area for your feet and provides a good "bite" onto the bottom of your shoe
Footpegs available with Joker's exclusive pitch adjustment screw that enables you to adjust the pegs to a "level" riding position (if necessary) so the pegs don't appear to "lay down" with time, vibration, etc.
Adjustable pegs feature full 360° footpeg rotation making them perfect for any application
Shift pegs have serrations on the top surface only, and the bottom side is smooth to provide non-shoe-damaging up-shifts - installs easily to most stock H-D shift arms with a threaded 5/16"-24 mounting hole
Available in your choice of natural clear anodized or our hard black anodized finish
Male-mount footpegs are available in two different lengths and fit most models with standard Harley female footpeg mounts
Footpegs sold in pairs; shifter pegs sold each
Made in the U.S.A.
NOTE: Will not fit 13 XL1200V/XL1200X/XL1200C models.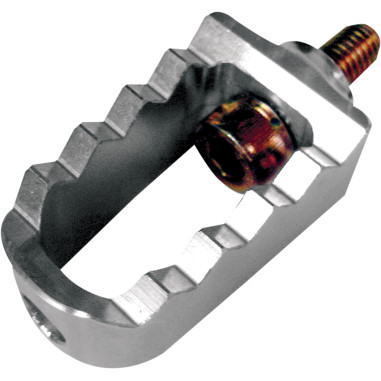 | Part # | Description | Sug. Retail Price |
| --- | --- | --- |
| 1603-0085 | Black Serrated Billet Standard Shift Peg | $44.95 |
| 1603-0086 | Natural Serrated Billet Standard Shift Peg | $44.95 |
| 1603-0103 | Natural Serrated Billet Short Shift Peg | $39.95 |
| 1603-0104 | Black Serrated Billet Short Shift Peg | $39.95 |
| Part # | Description | Sug. Retail Price |
| --- | --- | --- |
| 1620-0706 | Black Adjustable Serrated Billet LongFootpegs | $160.95 |
| 1620-0707 | Natural Adjustable Serrated Billet Long Footpegs | $160.95 |
| 1620-0708 | Black Adjustable Serrated Billet Short Footpegs | $150.95 |
| 1620-0709 | Natural Adjustable Serrated Billet Short Footpegs | $150.95 |