PRO-STREET SYSTEMS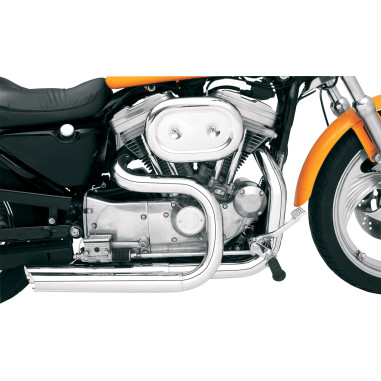 13/4" headpipes step to 2", then flow into 21/2" muffler bodies for increased flow and improved performance
Available with chrome or black finish
Designed to increase low-end torque and produce a deep, throaty exhaust note
Feature 16-gauge steel construction throughout
Heat shield sold separately unless noted
Includes mounting bracket and hardware
Made in the U.S.A.
NOTE: Turn-out baffles are welded in place; all others are removable.
Disclaimer: The California Air Resources Board ("CARB") does not permit the use of aftermarket emission-related parts, devices, or systems that alter the performance of OEM emission-related devices unless CARB has issued an Executive Order, other than on racing vehicles on closed courses. Check your local laws and manufacturer's information.
| | |
| --- | --- |
| | Pro-Street Systems |
| Part # | Description | Sug. Retail Price |
| --- | --- | --- |
| 1800-0637 | EXHAUST PRO-ST 86-11 ST | $469.95 |
| 1800-0641 | EXH P-ST T/O 07-11ST CHR | $469.95 |
| 1800-0643 | EXH P-ST T/O 07-11ST BLK | $499.95 |
| 1800-0645 | Pro-Street System Slash-Cut Chrome | $489.95 |
| 1800-0647 | Pro-Street System Slash-Cut Chrome | $489.95 |
| 1800-0662 | EXHAUST PRO-STRT 07-11 ST | $469.95 |
| 1800-0665 | Pro-Street System Slash-Cut Chrome | $489.95 |
| 1800-0821 | Pro-Street System Slash-Cut Chrome | $489.95 |
| 1800-0834 | EXH PRO-ST BK 07-11 ST | $499.95 |
| 1800-0840 | Pro-Street System Straight-Cut Chrome | $489.95 |
| 1800-0841 | Pro-Street System Slash-Cut Chrome | $489.95 |
| 1800-0845 | Pro-Street System Slash-Cut Black | $499.95 |
| 1800-1011 | Pro-Street System Straight-Cut Chrome | $489.95 |
| 1800-1084 | Pro-Street System Slash-Cut Black | $499.95 |
| 1800-1085 | EXHAUST P-ST T/O FXCW CH | $569.95 |
| 1800-1086 | EXHAUST P-ST T/OROCKER BK | $599.95 |
| | |
| --- | --- |
| | Baffle |
| Part # | Description | Sug. Retail Price |
| --- | --- | --- |
| 1860-0512 | Baffles For PART #'s 1800-0647, 0840, 0841, 1011 | $79.95 |
| 1860-0514 | Replacement Baffles For PART #'s 1800-0645, 0821, 1504, 1508, 1509, 1506, 1505 | $79.95 |
| | |
| --- | --- |
| | Heat Shield |
| Part # | Description | Sug. Retail Price |
| --- | --- | --- |
| 1861-0383 | Pro-Street System Optional Dyna Heat Shields Chrome | $119.95 |
| 1861-0384 | HEAT SHIELDS PRO-ST DYNA | $109.95 |
| 1861-0385 | Pro-Street System Optional Heat Shields XL Chrome | $119.95 |
| 1861-0393 | Pro-Street System Replacement Heat Shields Softail | $139.95 |
| 1861-0394 | Pro-Street System Optional Heat Shields XL Chrome | $119.95 |
| 1861-0456 | Pro-Street System Optional Heat Shields XL Chrome | $109.95 |