PRO-STREET SYSTEMS
Feature 16-gauge steel construction throughout
1 3/4" headpipes step to 2", then flow into 2 1/2" muffler bodies for increased flow and improved performance
Designed to increase low-end torque and produce a deep, throaty exhaust note
Includes mounting bracket and hardware
Heat shield sold separately unless noted
Available with chrome or black finish
Made in the U.S.A.
NOTE: Turn-out baffles are welded in place; all others are removable.
DISCLAIMER: NOT LEGAL FOR SALE OR USE IN CALIFORNIA ON ANY POLLUTION CONTROLLED MOTOR VEHICLES.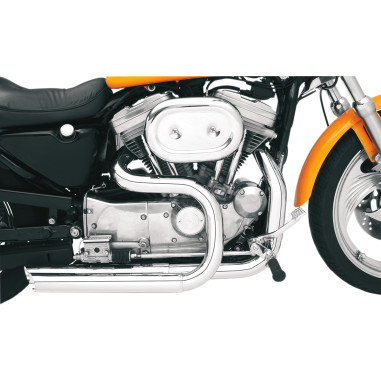 | Part # | Description | Sug. Retail Price |
| --- | --- | --- |
| 1800-0647 | Chrome Pro-Street Exhaust System | $489.95 |
| 1800-0665 | Chrome Pro-Street Exhaust System | $489.95 |
| 1800-0821 | Chrome Pro-Street Exhaust System | $489.95 |
| 1800-0841 | Chrome Pro-Street Exhaust System | $489.95 |
| 1800-0845 | Black Pro-Street Exhaust System | $499.95 |
| 1800-1084 | Black Pro-Street Exhaust System | $499.95 |
| Part # | Description | Sug. Retail Price |
| --- | --- | --- |
| 1861-0383 | Chrome Pro-Street System Heat Shields | $119.95 |
| 1861-0394 | Chrome Pro-Street System Heat Shields | $119.95 |