SUPER STOCK™ STEALTH AIR CLEANER KITS
For stock and S&S fuel system applications
Kits include backing plate, filter and hardware
Built-in stinger cone directs air smoothly into the bore of the carburetor or EFI throttle body and reduces turbulence and increases flow
Made in the U.S.A.
PART #1010-2160 For 01-17 Twin Cam w/Delphi EFI (Except 08-17 Dresser/H-D Trike, 16-17 FXDLS, 16-17 Softails, 11-12 FLSTSE, 13-15 FXSBSE and 14-15 FLSTNSE), CARB EO# D-355-21
SUPER STOCK STEALTH AIR CLEANER KITS
NOTE: Exempt per CARB EXECUTIVE ORDER D-355-21.
NOTE: Kits do not come with covers. Must use with stock Twin Cam 88?, 96?, or 103? "football-style" air cleaner cover, or can be used with S&S Stealth air cleaner covers (sold separately). Use PART #s 1014-0267 or 1014-0225 adapters to install stock cover on 14-17 Touring bikes.
NOTE: Stealth air cleaner kits for 01-17 EFI applications come with a special sticker and instructions for applying it to an inconspicuous location on the frame.
DISCLAIMER: NOT LEGAL FOR SALE OR USE IN CALIFORNIA ON ANY POLLUTION CONTROLLED MOTOR VEHICLES.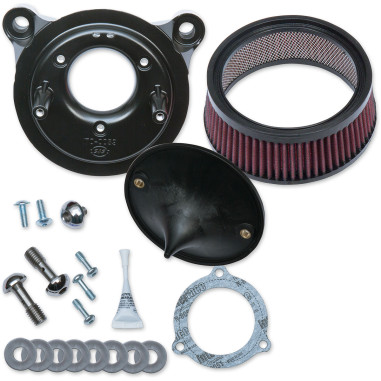 For 17 FLHT/ FLHX/ FLTRX/ FLTRU, H-D Trike
| Part # | Description | Sug. Retail Price |
| --- | --- | --- |
| 1010-2161 | Super Stock™ Stealth Air Cleaner Kit | $135.95 |
For 01-17 Twin Cam w/Delphi EFI (with exceptions)
| Part # | Description | Sug. Retail Price |
| --- | --- | --- |
| 1010-2160 | Super Stock™ Stealth Air Cleaner Kit | $135.95 |
| Part # | Description | Sug. Retail Price |
| --- | --- | --- |
| 1010-2162 | Super Stock™ Stealth Air Cleaner Kit | $142.95 |