VENTURI RAIDER AIR CLEANER
Exposed filter design that enhances airflow
Backing plate promotes smooth airflow into carburetor/throttle body
Built-in internal crank case breathers
Available in Machine Ops™ finish
Machine Ops™, RSD's newest finish option, is a fusion of textured natural aluminum and detailed machining that exposes the true beauty of our aluminum alloy, then dip the fresh machined parts in a slick clear anodize to protect the surface while keeping its raw aesthetic protected
Includes high-volume air filter
All mounting hardware included
Made in the U.S.A.
MANUFACTURER'S NOTE: Not legal for street use on pollution controlled vehicles.
DISCLAIMER: NOT LEGAL FOR SALE OR USE IN CALIFORNIA ON ANY POLLUTION CONTROLLED MOTOR VEHICLES.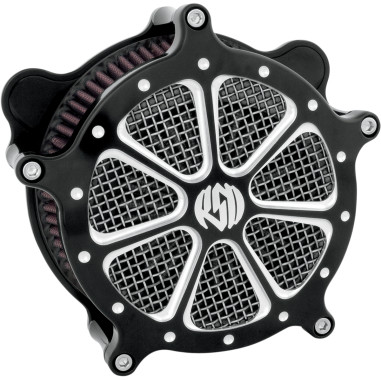 | Part # | Description | Sug. Retail Price |
| --- | --- | --- |
| 1010-1490 | For 01-14 Softail, 04-14 Dyna Glide, 02-07 FLT w/ Delphi EFI and 93-06 Big Twin w/ stock CV carb | $439.95 |
| 1010-1491 | For 08-14 FLT models and H-D FL Trike models | $439.95 |
| 1010-1492 | For 91-14 XL w/ CV carb/Delphi EFI | $439.95 |