DRAG SPECIALTIES HIGH PERFORMANCE BATTERIES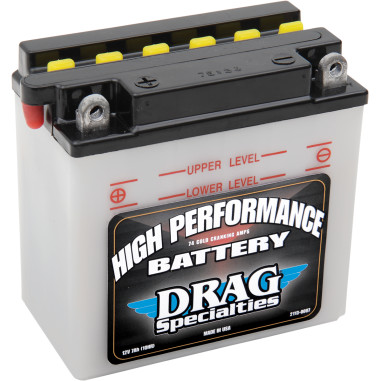 Superior engineering features include an AGM (Absorbed glass-matt) radial grid design for maximum cranking amps
See page ??? for Drag Specialties/Hotop battery lift tool, sold separately
Specifically designed for high-performance engines that need extra cranking power
Spill-proof, pre-filled, pre-charged, maintenance-free sealed design
High vibration resistance
Batteries include brass spacers, stainless steel nuts, bolts and star washers
Made in the U.S.A.
NOTE: Factory-activated batteries should be charged once a month when not in service.
| | |
| --- | --- |
| | Battery |
| Part # | Description | Sug. Retail Price |
| --- | --- | --- |
| 2113-0009 | Drag Specialties High Performance Battery | $89.95 |
| 2113-0010 | Drag Specialties High Performance Battery | $146.95 |
| 2113-0011 | Drag Specialties High Performance Battery | $116.95 |
| 2113-0012 | Drag Specialties High Performance Battery | $116.95 |
| 2113-0013 | Drag Specialties High Performance Battery | $132.95 |
| 2113-0014 | Drag Specialties High Performance Battery | $95.95 |
| | |
| --- | --- |
| | Bolt/Nut Set |
| Part # | Description | Sug. Retail Price |
| --- | --- | --- |
| 2113-0082 | Bolt/Nut Set | $2.40 |
| 2113-0085 | Replacement Battery Hardware For PART #'s 2113-0009/0014 | $2.40 |
| | |
| --- | --- |
| | Drag Specialties High Performance Batteries |
| Part # | Description | Sug. Retail Price |
| --- | --- | --- |
| 3807-0203 | Battery Lift Tool | $29.95 |