TAILLIGHT TAG BRACKETS
Main bracket made from 3/16" laser cut steel
LED dual circuit tail/brake light
Billet aluminum taillight housing and retaining ring
Billet aluminum license plate frame laser engraved with RSD logo
Red polycarbonate taillight lens
Available in chrome, black or Black Ops™
Easily adaptable to most custom bikes with a .472" mounting hole
Hardware included
Made in the U.S.A.
NOTE: May not be legal in some states.
NOTE: Light does not meet DOT approval.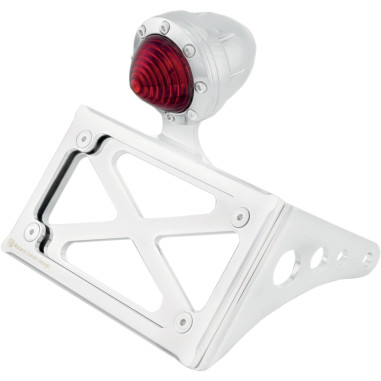 | Part # | Description | Sug. Retail Price |
| --- | --- | --- |
| 2010-0921 | Black Taillight/Tag Bracket | $269.95 |
| 2010-0922 | Chrome Taillight/Tag Bracket | $269.95 |
| 2010-0923 | Black Ops™ Taillight/Tag Bracket | $269.95 |
| 2010-0925 | Chrome Taillight/Tag Bracket | $269.95 |
| 2010-0926 | Black Ops™ Taillight/Tag Bracket | $269.95 |
| 2010-0927 | Black Taillight/Tag Bracket | $269.95 |
| 2010-0928 | Chrome Taillight/Tag Bracket | $269.95 |
| 2010-0929 | Black Ops™ Taillight/Tag Bracket | $269.95 |