2-PISTON FRONT BRAKE CALIPERS
Billet aluminum with a smooth or classic "fin" design in a choice of three finishes: clear anodized, chrome or black contrast
All single-disc applications require a 5/8" bore master cylinder
All front dual-disc applications require the factory 11/16" bore (84 and later) or the GMA 3/4" handlebar master cylinder
Brake pads included
Made in the U.S.A.
NOTE: Not recommended for use with imported stainless steel rotors.
NOTE: When installing new calipers, always check spoke-to-caliper clearance.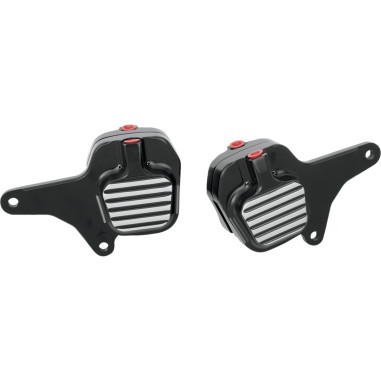 | Part # | Description | Sug. Retail Price |
| --- | --- | --- |
| 1701-0228 | Natural Classic Front Brake Caliper | $308.95 |
| 1701-0229 | Black/Natural Classic Front Brake Caliper | $308.95 |
| 1701-0230 | Chrome Classic Front Brake Caliper | $366.95 |
| 1701-0231 | Black Smooth Front Brake Caliper | $308.95 |
| 1701-0233 | Natural Classic Front Brake Calipers | $586.95 |
| 1701-0238 | Classic Clear Anodized Two-Piston Front Brake Caliper | $376.95 |
| 1701-0239 | Classic Black/Natural Two-Piston Front Brake Caliper | $376.95 |
| 1701-0240 | Chrome Classic Front Brake Caliper | $433.95 |
| 1701-0241 | Black Smooth Front Brake Caliper | $376.95 |
| 1701-0242 | Chrome Smooth Front Brake Caliper | $433.95 |
| 1701-0243 | Natural Classic Front Brake Caliper | $308.95 |
| 1701-0244 | Black/Natural Classic Front Brake Caliper | $308.95 |
| 1701-0245 | Chrome Classic Front Brake Caliper | $366.95 |
| 1701-0246 | Black Smooth Front Brake Caliper | $308.95 |
| 1701-0247 | Chrome Smooth Front Brake Caliper | $366.95 |