SUPER GAS MERC AIR CLEANERS
CNC-machined aluminum backing plate
Air cleaners include a high-volume K&N air filter
Contrast Cut™ finish starts with a polished air cleaner that has been black anodized, then recut to open the design
Black Ops™ finish features gloss black on top of a contrasting textured black finish for outstanding durability and looks
All mounting hardware included
Made in the U.S.A.
MANUFACTURER'S NOTE: May not be street legal in every state, please verify with local and state regulations for pollution controlled devices.
NOTE: Faceplates are not interchangeable.
Disclaimer: The California Air Resources Board ("CARB") does not permit the use of aftermarket emission-related parts, devices, or systems that alter the performance of OEM emission-related devices unless CARB has issued an Executive Order, other than on racing vehicles on closed courses. Check your local laws and manufacturer's information.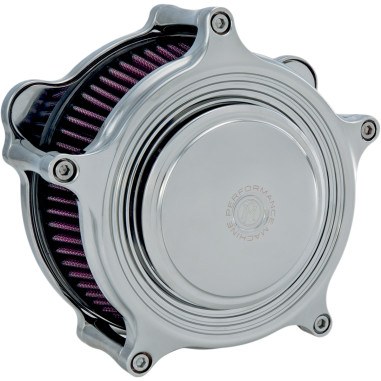 | Part # | Description | Sug. Retail Price |
| --- | --- | --- |
| 1010-1085 | Chrome Super Gas Merc Air Cleaner Kit | $419.95 |
| 1010-1086 | Chrome Super Gas Merc Air Cleaner Kit | $419.95 |
| 1010-1087 | Chrome Super Gas Merc Air Cleaner Kit | $419.95 |
| 1010-1089 | Contrast Cut™ Super Gas Merc Air Cleaner Kit | $419.95 |
| 1010-1090 | Contrast Cut™ Super Gas Merc Air Cleaner Kit | $419.95 |
| 1010-1091 | Contrast Cut™ Super Gas Merc Air Cleaner Kit | $419.95 |
| 1010-1093 | Black Ops™ Super Gas Merc Air Cleaner Kit | $419.95 |
| 1010-1094 | Black Ops™ Super Gas Merc Air Cleaner Kit | $419.95 |
| 1010-1095 | Black Ops™ Super Gas Merc Air Cleaner Kit | $419.95 |