COMPETITION SERIES 2-INTO-1 EXHAUST
Available in brushed stainless steel or black ceramic powder-coated stainless steel to provide significant weight savings over stock
Stepped headpipes and full merge collector for maximum performance
Tuned length megaphone
Slip fit collector joints with two dual swivel end retention springs
Racepack EGT fittings in both headpipes
Includes O² sensor port plugs for non-sensor applications
Flat plane 12mm and quick access 18mm oxygen sensor ports for wideband tuning capability
Designed and made in the U.S.A.
NOTE; Stainless steel systems will naturally discolor, this is expected and considered normal. High performance engine tuning utilizing a dynometer will likely result in severe discoloration.
NOTE: Not for models with saddlebags.
Disclaimer: The California Air Resources Board ("CARB") does not permit the use of aftermarket emission-related parts, devices, or systems that alter the performance of OEM emission-related devices unless CARB has issued an Executive Order, other than on racing vehicles on closed courses. Check your local laws and manufacturer's information.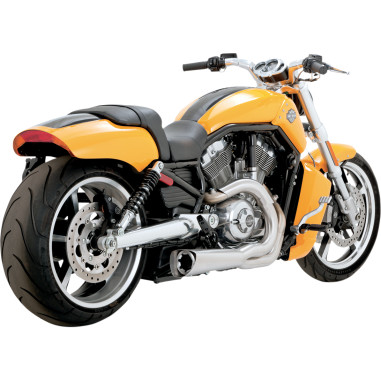 | Part # | Description | Sug. Retail Price |
| --- | --- | --- |
| 1800-1494 | Brushed Stainless Competition Series 2-Into-1 Exhaust System | $799.99 |
| 1800-1495 | Black Competition Series 2-Into-1 Exhaust System | $939.99 |
| 1800-1496 | Brushed Stainless Competition Series 2-Into-1 Exhaust System | $859.99 |
| 1800-1497 | Black Competition Series 2-Into-1 Exhaust | $999.99 |
| 1800-1499 | Black Competition Series 2-Into-1 Exhaust System | $939.99 |
| 1800-1500 | Brushed Stainless Competition Series 2-Into-1 Exhaust System | $799.99 |
| 1800-1501 | Black Competition Series 2-Into-1 Exhaust System | $939.99 |
| 1800-1502 | Brushed Stainless Competition Series 2-Into-1 Exhaust | $799.99 |
| 1800-1503 | Black Competition Series 2-Into-1 Exhaust | $939.99 |
| Part # | Description | Sug. Retail Price |
| --- | --- | --- |
| 1861-0605 | Quiet Baffle | $29.99 |