VENTURI AIR CLEANERS
Exposed filter design that enhances airflow
Backing plate promotes smooth airflow into carburetor/throttle body
Built-in internal crank case breathers
Contrast Cut™ finish starts with a polished venturi air cleaner faceplate that has been black anodized, then recut to open up the design
Platinum Cut uses the same process as the Contrast Cut™, but the recut areas are hand polished to a brilliant shine
Black Ops™ features gloss black on top of contrasting textured black for outstanding durability and good looks
Contrast Cut™ Black Ops™, RSD's newest finish, features a Contrast Cut™ with a Black Ops™ finish
Includes high-volume air filter
All mounting hardware included
Made in the U.S.A.
MANUFACTURER'S NOTE: Not legal for street use on pollution controlled vehicles.
Disclaimer: The California Air Resources Board ("CARB") does not permit the use of aftermarket emission-related parts, devices, or systems that alter the performance of OEM emission-related devices unless CARB has issued an Executive Order, other than on racing vehicles on closed courses. Check your local laws and manufacturer's information.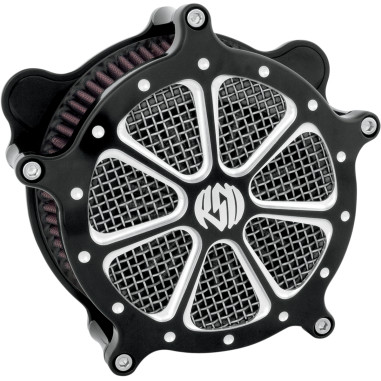 | Part # | Description | Sug. Retail Price |
| --- | --- | --- |
| 1010-0316 | Chrome Venturi Speed 5 Air Cleaner Kit | $439.95 |
| 1010-0317 | Contrast Cut™ Venturi Speed 5 Air Cleaner Kit | $439.95 |
| 1010-0373 | Chrome Venturi Speed 5 Air Cleaner Kit | $439.95 |
| 1010-0374 | Contrast Cut™ Venturi Speed 5 Air Cleaner Kit | $439.95 |
| 1010-0403 | Contrast Cut™ Venturi Speed 5 Air Cleaner Kit | $439.95 |
| 1010-0420 | Chrome Venturi Speed 7 Air Cleaner Kit | $439.95 |
| 1010-0421 | Contrast Cut™ Venturi Speed 7 Air Cleaner Kit | $439.95 |
| 1010-0422 | Chrome Venturi Speed 7 Air Cleaner Kit | $439.95 |
| 1010-0423 | Contrast Cut™ Venturi Speed 7 Air Cleaner Kit | $439.95 |
| 1010-0425 | Contrast Cut™ Venturi Speed 7 Air Cleaner Kit | $439.95 |
| 1010-0718 | Contrast Cut™ Venturi Mission Air Cleaner Kit | $439.95 |
| 1010-0722 | Contrast Cut™ Venturi Mission Air Cleaner Kit | $439.95 |
| 1010-0724 | Contrast Cut™ Venturi Ronin Air Cleaner Kit | $439.95 |
| 1010-0726 | Contrast Cut™ Venturi Ronin Air Cleaner Kit | $439.95 |
| 1010-0728 | Contrast Cut™ Venturi Ronin Air Cleaner Kit | $439.95 |
| 1010-0791 | Platinum Cut™ Venturi Speed 7 Air Cleaner Kit | $439.95 |
| 1010-0792 | Platinum Cut™ Venturi Speed 7 Air Cleaner Kit | $439.95 |
| 1010-0793 | Platinum Cut™ Venturi Speed 7 Air Cleaner Kit | $439.95 |
| 1010-0795 | Contrast Cut™ Venturi Turbo Air Cleaner Kit | $439.95 |
| 1010-0796 | Chrome Venturi Turbo Air Cleaner Kit | $439.95 |
| 1010-0797 | Contrast Cut™ Venturi Turbo Air Cleaner Kit | $439.95 |
| 1010-0799 | Contrast Cut™ Venturi Turbo Air Cleaner Kit | $439.95 |
| 1010-0800 | Chrome Venturi Turbo Air Cleaner Kit | $439.95 |
| 1010-0803 | Contrast Cut™ Venturi Domino Air Cleaner Kit | $439.95 |
| 1010-0804 | Contrast Cut™ Venturi Domino Air Cleaner Kit | $439.95 |
| 1010-0805 | Contrast Cut™ Venturi Domino Air Cleaner Kit | $439.95 |
| 1010-0807 | Contrast Cut™ Venturi Judge Air Cleaner Kit | $439.95 |
| 1010-0808 | Contrast Cut™ Venturi Judge Air Cleaner Kit | $439.95 |
| 1010-0809 | Contrast Cut™ Venturi Judge Air Cleaner Kit | $439.95 |
| 1010-0896 | Black Ops™ Venturi Boss Air Cleaner Kit | $439.95 |
| 1010-0897 | Black Ops™ Venturi Boss Air Cleaner Kit | $439.95 |
| 1010-0900 | Contrast Cut™ Venturi Boss Air Cleaner Kit | $439.95 |
| 1010-0901 | Contrast Cut™ Venturi Boss Air Cleaner Kit | $439.95 |
| 1010-0902 | Contrast Cut™ Venturi Boss Air Cleaner Kit | $439.95 |
| 1010-0904 | Black Ops™ Venturi Slam Air Cleaner Kit | $439.95 |
| 1010-0905 | Black Ops™ Venturi Slam Air Cleaner Kit | $439.95 |
| 1010-0906 | Black Ops™ Venturi Slam Air Cleaner Kit | $439.95 |
| 1010-0908 | Contrast Cut™ Venturi Slam Air Cleaner Kit | $439.95 |
| 1010-0909 | Contrast Cut™ Venturi Slam Air Cleaner Kit | $439.95 |
| 1010-0910 | Contrast Cut™ Venturi Slam Air Cleaner Kit | $439.95 |
| 1010-1063 | Black Ops™ Venturi Judge Air Cleaner Kit | $439.95 |
| 1010-1064 | Black Ops™ Venturi Judge Air Cleaner Kit | $439.95 |
| 1010-1065 | Black Ops™ Venturi Judge Air Cleaner Kit | $439.95 |
| 1010-1067 | Black Ops™ Venturi Speed 7 Air Cleaner Kit | $439.95 |
| 1010-1068 | Black Ops™ Venturi Speed 7 Air Cleaner Kit | $439.95 |
| 1010-1069 | Black Ops™ Venturi Speed 7 Air Cleaner Kit | $439.95 |
| 1010-1220 | Black Ops™ Venturi Morris Air Cleaner Kit | $439.95 |
| 1010-1221 | Black Ops™ Venturi Morris Air Cleaner Kit | $439.95 |
| 1010-1420 | Contrast Cut Ops™ Venturi Delmar Air Cleaner Kit | $439.95 |
| 1010-1421 | Contrast Cut Ops™ Venturi Delmar Air Cleaner Kit | $439.95 |
| 1010-1422 | Contrast Cut Ops™ Venturi Delmar Air Cleaner Kit | $439.95 |
| 1010-1423 | Chrome Venturi Air Delmar Cleaner Kit | $439.95 |
| 1010-1424 | Chrome Venturi Delmar Air Cleaner Kit | $439.95 |
| 1010-1425 | Chrome Venturi Delmar Air Cleaner Kit | $439.95 |
| 1010-1426 | Contrast Cut Ops™ Venturi Raid Air Cleaner Kit | $439.95 |
| 1010-1427 | Contrast Cut Ops™ Venturi Raid Air Cleaner Kit | $439.95 |
| 1010-1428 | Contrast Cut Ops™ Venturi Raid Air Cleaner Kit | $439.95 |
| 1010-1429 | Chrome Venturi Raid Air Cleaner Kit | $439.95 |
| 1010-1430 | Chrome Venturi Raid Air Cleaner Kit | $439.95 |
| 1010-1431 | Chrome Venturi Raid Air Cleaner Kit | $439.95 |
| Part # | Description | Sug. Retail Price |
| --- | --- | --- |
| 1011-1781 | Pre-Filter For Venturi Air Cleaner | $29.95 |
| Part # | Description | Sug. Retail Price |
| --- | --- | --- |
| 1011-2000 | Replacement Air Filter For Venturi/Turbine/Super Gas Air Cleaner Kit | $57.95 |