CLARITY AIR CLEANERS
CNC machined from billet aluminum
Allows for viewing of the internal moving intake components
Backing plate promotes smooth airflow into the carb/throttle body
Includes high-volume K&N air filter
All mounting hardware included
Contrast Cut™ finish starts with a polished air cleaner that has been black anodized, then recut to open up the design
Black Ops™, RSD's newest finish, features gloss black on top of contrasting textured black for outstanding durability and good looks
Matching Clarity derby and cam cover available
Made in the U.S.A.
MANUFACTURER'S NOTE: Not legal for street use on pollution controlled vehicles.
DISCLAIMER: NOT LEGAL FOR SALE OR USE IN CALIFORNIA ON ANY POLLUTION CONTROLLED MOTOR VEHICLES.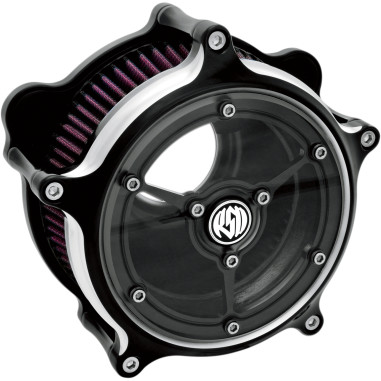 | Part # | Description | Sug. Retail Price |
| --- | --- | --- |
| 1010-1039 | Chrome Clarity Air Cleaner Kit | $499.95 |
| 1010-1040 | Contrast Cut™ Clarity Air Cleaner Kit | $499.95 |
| 1010-1041 | Black Ops™ Clarity Air Cleaner Kit | $499.95 |
| 1010-1043 | Contrast Cut™ Clarity Air Cleaner Kit | $499.95 |
| 1010-1044 | Black Ops™ Clarity Air Cleaner Kit | $499.95 |
| 1010-1047 | Black Ops™ Clarity Air Cleaner Kit | $499.95 |
| Part # | Description | Sug. Retail Price |
| --- | --- | --- |
| 1010-1042 | Chrome Clarity Air Cleaner Kit | $499.95 |
| 1010-1045 | Chrome Clarity Air Cleaner Kit | $499.95 |
| 1010-1046 | Contrast Cut™ Clarity Air Cleaner Kit | $499.95 |