BILLET FORWARD CONTROLS
CNC-machined billet aluminum construction
Sleek design uses lever pivot for footpeg mount
Choose from chrome or black anodized finish
Available in stock, +2" and +3" lengths
Includes footpegs and brake/shifter pegs
Made in the U.S.A.
NOTE: For Softail applications, 3" extended kits may require a custom brake line and extended shift linkage.
NOTE: 07-14 Softail applications will require the use of an 00-06 style kickstand assembly.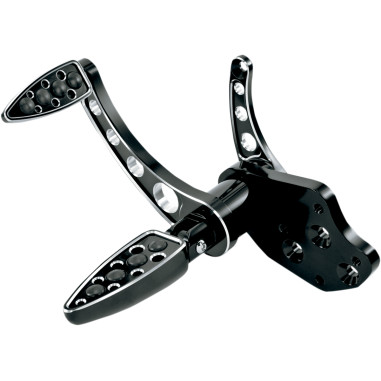 | Part # | Description | Sug. Retail Price |
| --- | --- | --- |
| 1622-0181 | Chrome Round Extended Forward Controls | $1,049.95 |
| 1622-0339 | Chrome Round Forward Controls | $1,049.95 |
| 1622-0428 | Chrome Teardrop Forward Controls | $1,109.95 |
| 1622-0430 | Black Teardrop Forward Controls | $1,109.95 |
| 1622-0432 | Chrome Forward Controls | $1,299.95 |
| Part # | Description | Sug. Retail Price |
| --- | --- | --- |
| 1622-0180 | Chrome Round Forward Controls | $1,049.95 |
| 1622-0182 | Black Round Forward Controls | $1,049.95 |
| 1622-0183 | Black Extended Round Forward Controls | $1,049.95 |
| 1622-0341 | Black Round Forward Controls | $1,049.95 |
| 1622-0424 | Chrome Teardrop Forward Controls | $1,109.95 |
| Part # | Description | Sug. Retail Price |
| --- | --- | --- |
| 1622-0431 | Black Extended Teardrop Forward Controls | $1,109.95 |