CUSTOM 5 3/4" HEADLIGHT ASSEMBLY
Chrome headlight is longer and sleeker than the old bottom-mount style
Includes a 12V sealed beam and heavy-duty mounting brackets riveted onto the headlight shell
Headlight mounting block on Springer models must be turned around for proper spring clearance
See page ??? for replacement bulbs
Made in the U.S.A.
NOTE: This headlight does not have a high-beam indicator, and it does not come with the bottom mounting block DS-285005 (must be purchased separately).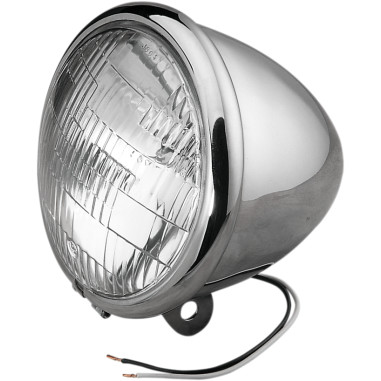 | Part # | Description | Sug. Retail Price |
| --- | --- | --- |
| DS-285005 | Chrome Headlight Mounting Block For Bottom-Mount Headlights | $8.95 |