LOW-MOUNT FAN-ASSISTED OIL COOLER KITS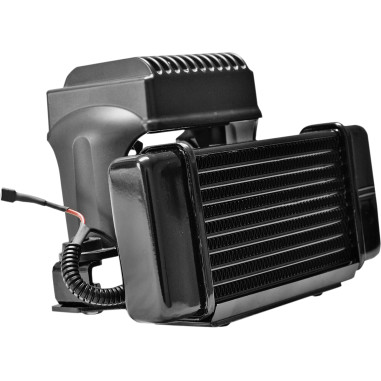 Designed to perform as well at low vehicle speeds and stop-and-go traffic as on the open highway
Fan pulls a full 150 cfm of air across cooler
Fan turns on automatically at approximately 205°F
Feature the Jagg high-performance 10-row oil cooler kit with an integrated fan
HyperFlow technology ensures unsurpassed flow and heat rejection
Kits include cooler, sealed-motor fan, oil hose, mounting hardware, automatic thermal fan switch and wiring harness to allow simple bolt-on application with use of a Jagg offset oil filter adapter (sold separately)
Made in the U.S.A.
NOTE: Will require the use of Jagg offset filter adapter (PART #J4600 or 0713-0031) to access oil supply.
NOTE: Filter adapter nipple (PART #0713-0081) is required on bikes that have OEM coolers already installed and are upgrading to a fan assisted oil cooler.
| | |
| --- | --- |
| | filter adapter nipple |
| Part # | Description | Sug. Retail Price |
| --- | --- | --- |
| 0713-0081 | JAGG CONVERSION NIPPLE | $9.95 |
| | |
| --- | --- |
| | Oil cooler w/fan |
| Part # | Description | Sug. Retail Price |
| --- | --- | --- |
| 0713-0079 | OIL COOLER 10-R LOW FAN | $379.95 |
| 0713-0080 | OIL COOLER 10-R LOW FAN | $379.95 |