13/4" DRAG PIPES FOR SWINGARM PANHEAD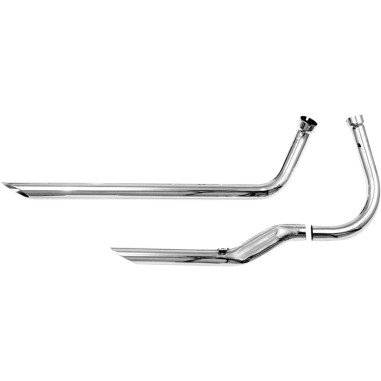 Chrome drag pipes for swingarm Panhead with kick or electric start
Feature slider channels for ease of installation
PART #1800-0941 tucks up tight under floorboards for easier right-hand turns
Made in the U.S.A.
NOTE: PART #1800-0896 will not fit with large FLH battery.
NOTE: Additional mounting clamps may be required to mount exhaust systems. Mounting clamps are sold separately.
California Warning: The California Air Resources Board ("CARB") does not permit the use of aftermarket exhaust systems that remove or alter OEM emission control devices unless certified by CARB, other than on racing vehicles on closed courses. Check your local laws and manufacturer's information.
| | |
| --- | --- |
| | 1 3/4" Drag Pipes |
| Part # | Description | Sug. Retail Price |
| --- | --- | --- |
| 1800-0896 | 1 3/4" Shotgun "S" Drag Pipes For Swingarm Panhead | $295.95 |
| 1800-0941 | 1 3/4" Close-Fit Drag Pipes For Swingarm Panhead | $309.95 |