DEL REY
Small, sleek design that offers good protection in a minimalist package
Made of Lucite® for excellent optics and durability
Available in seven gradient colors and solar (a light tint with 72% visible light transmission)
Measures approximately 15" W x 13" H above headlight
Fits most round headlights
Optional Lowers available for additional windshield coverage; see page ???
Features No-Tool detachable Trigger-Lock hardware so you can swap or remove your windshield in a flash
Must order mounting kit separately; see page ???
Made in the U.S.A.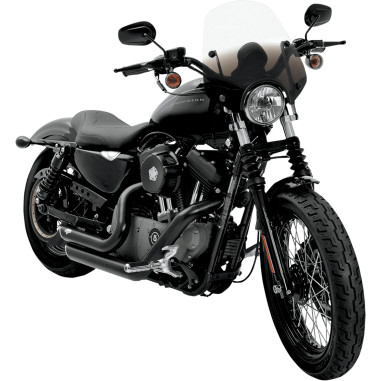 | Part # | Description | Sug. Retail Price |
| --- | --- | --- |
| 2311-0001 | Gradient Burnt Orange Del Rey | $75.95 |
| MEP5011 | Gradient Black Del Rey | $75.95 |
| MEP5012 | Gradient Ruby Del Rey | $75.95 |
| MEP5013 | Gradient Teal Del Rey | $75.95 |
| MEP5014 | Gradient Purple Del Rey | $75.95 |
| MEP5015 | Gradient Yellow Del Rey | $75.95 |
| MEP5016 | Gradient Blue Del Rey | $75.95 |
| MEP5019 | Solar Del Rey | $75.95 |