CUSTOM WIDE SPRINGER FRONT FORKS [P-186B1]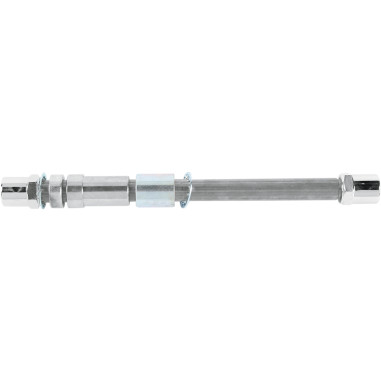 | Part # | Description | Sug. Retail Price |
| --- | --- | --- |
| P-186B1 | Wide Springer Front Fork Axle | $97.95 |
Overview
Classic springer looks with quality second to none from the premier springer manufacturer
Wide springer without shock features mounting points for dual disc brakes; no front fender mounting points
Wide springer with shock has a front fender mount similar to the 88-92 FXSTS
Distance between rear legs is 85/16"; outside width is 91/2"
Forks come assembled and include fork neck, top nut, crown nut, riser-style top clamp and inner springs
Both springers use standard 1" neck bearings
Require use of the Paughco axle, available separately; fork recommended for 21" wheels only
Require 1/2"-20 riser stud/bolt
Made in the U.S.A.
NOTE: Overall length is measured from the bottom of the top clamp to the center of the rear leg pivot. Please note that 25" stock length forks are the same length as OEM forks used on 48-84 FLH Big Twins. The correct length for the equivalent of an FXSTS springer fork would be +3" over stock (28" total).
Specifications
| | |
| --- | --- |
| COLOR: | Chrome |
| MADE IN THE U.S.A.: | Yes |
| POSITION: | Front |
| SPECIFIC APPLICATION: | No |
| STYLE: | |
| TYPE: | Axle Kit |
Catalogs Containing This Part
| Name | Page Number |
| --- | --- |
| 15 Drag FatBook | 1420 |
| 15 Drag OldBook | 277 |
| 15 Drag OldBook | 451 |
| 15 Drag OldBook | 528 |
| 15 Drag OldBook | 711 |