WFB BENCHMARK BAGGER FRONT FENDER BLOCKS [1410-0022]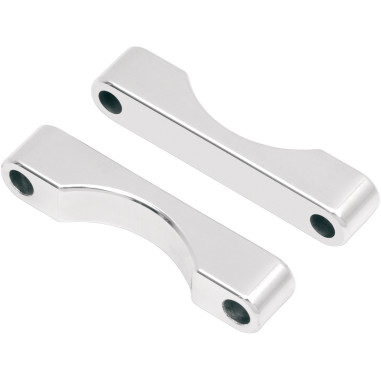 | Part # | Description | Sug. Retail Price |
| --- | --- | --- |
| 1410-0022 | Chrome WFB™ Benchmark Bagger Front Fender Blocks | $89.95 |
Overview
Machined from billet aluminum and available in a chrome or raw finish
Less is more in this minimalist part that provides perfect spacing for your Road King, Road Glide, Street Glide or Ultra project
Besides being used with Klock Werks' Benchmark Front Fenders, they can be used for a variety of custom applications
The dimensions for the 14-15 models are 4" long x 11/8" tall x 3/8" thick
The 14-15 models have a 31/4" o.c. fork leg mount holes, 3" o.c. fender mount holes (5/16)
The spacers for 84-13 models are 0.750" thick and hole spacing is 3" on center to fit FLT or FLHT style forks
Sold in pairs
Made in the U.S.A.
NOTE: Will not fit Perse front forks.
Specifications
| | |
| --- | --- |
| COLOR: | Chrome |
| FINISH: | Chrome |
| MADE IN THE U.S.A.: | Yes |
| MATERIAL: | Aluminum |
| MODEL: | WFB™ |
| POSITION: | Front |
| RIM/WHEEL SIZE: | |
| SPECIFIC APPLICATION: | Yes |
| STYLE: | Benchmark |
| TYPE: | Fender Mounting Block |
Application(s)
| Year | Make | Model | |
| --- | --- | --- | --- |
| 1983 | Harley-Davidson | Electra Glide - FLHT | |
| 1985 - 1987 | Harley-Davidson | Electra Glide - FLHT | |
| 2007 - 2013 | Harley-Davidson | Electra Glide Classic (EFI) - FLHTC | |
| 1983 - 2005 | Harley-Davidson | Electra Glide Classic - FLHTC | |
| 1995 - 2006 | Harley-Davidson | Electra Glide Classic Injected - FLHTC I | |
| 1987 - 1993 | Harley-Davidson | Electra Glide Sport - FLHS | |
| 2007 - 2009 | Harley-Davidson | Electra Glide Standard (EFI) - FLHT | |
| 1995 - 2006 | Harley-Davidson | Electra Glide Standard - FLHT | |
| 2003 - 2006 | Harley-Davidson | Electra Glide Standard Injected - FLHT I | |
| 2010 - 2013 | Harley-Davidson | Electra Glide Ultra Limited - FLHTK | |
| 2007 - 2009 | Harley-Davidson | Road Glide (EFI) - FLTR | |
| 1998 - 2002 | Harley-Davidson | Road Glide - FLTR | |
| 2010 - 2013 | Harley-Davidson | Road Glide Custom - FLTRX | |
| 2011 - 2013 | Harley-Davidson | Road Glide Ultra - FLTRU | |
| 1998 - 2006 | Harley-Davidson | Road Glide-Injected - FLTR-I | |
| 2007 - 2013 | Harley-Davidson | Road King (EFI) - FLHR | |
| 1994 - 2006 | Harley-Davidson | Road King - FLHR | |
| 2007 - 2013 | Harley-Davidson | Road King Classic (EFI) - FLHRC | |
| 1998 - 2006 | Harley-Davidson | Road King Classic Injected - FLHRC I | |
| 2007 | Harley-Davidson | Road King Custom (EFI) - FLHRS | |
| 2004 - 2006 | Harley-Davidson | Road King Custom - FLHRS | |
| 2004 - 2006 | Harley-Davidson | Road King Custom Injected - FLHRS I | |
| 1996 - 2006 | Harley-Davidson | Road King-Injected - FLHR-I | |
| 2007 - 2013 | Harley-Davidson | Street Glide (EFI) - FLHX | |
| 2006 | Harley-Davidson | Street Glide - FLHX | |
| 2010 - 2011 | Harley-Davidson | Street Glide Trike - FLHXXX | |
| 2006 | Harley-Davidson | Street Glide-Injected - FLHX-I | |
| 1980 - 1983 | Harley-Davidson | Tour Glide - FLT | |
| 1980 - 1994 | Harley-Davidson | Tour Glide Classic - FLTC | |
| 1988 - 1996 | Harley-Davidson | Tour Glide Ultra Classic - FLTCU | |
| 1996 | Harley-Davidson | Tour Glide Ultra Classic Injected - FLTCU I | |
| 2009 - 2013 | Harley-Davidson | Tri Glide Ultra Classic - FLHTCUTG | |
| 2007 - 2013 | Harley-Davidson | Ultra Classic (EFI) - FLHTCU | |
| 1989 - 1999 | Harley-Davidson | Ultra Classic - FLHTCU | |
| 1995 - 2006 | Harley-Davidson | Ultra Classic-Injected - FLHTCU-I | |
Catalogs Containing This Part
| Name | Page Number |
| --- | --- |
| 15 Drag FatBook | 1465 |
| 15 Drag FatBook | 1477 |