HP+® HIGH VOLUME OIL PUMP [0932-0023]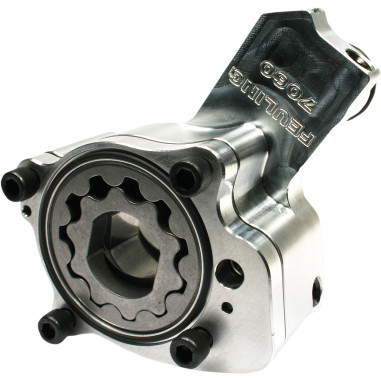 | Part # | Description | Sug. Retail Price |
| --- | --- | --- |
| 0932-0023 | HP+® High Volume Oil Pump | $399.95 |
Overview
Made of 6061 billet aluminum with high-flow 2" chromoly gerotor gears
Stock replacement oil pump increases oil pressure and scavenge return volume
Gain 32% pressure volume and 38% scavenge volume over stock oil pump and 16% more pressure and 9% more scavenge over SE pump
Eliminates blow-by, wet sumping and oily air cleaners
Provides cooler engine temperatures and oil, more horsepower and more torque
Features aerospace design, tolerances and materials
Fits Screamin' Eagle® and other aftermarket camplates which utilize the late-style 07-15 oil pumps
Made in the U.S.A.
NOTE: Use with Feuling® cam support plate (recommended but not required); see page ???.
Specifications
| | |
| --- | --- |
| MADE IN THE U.S.A.: | Yes |
| MODEL: | HP+® |
| SPECIFIC APPLICATION: | Yes |
| STYLE: | |
| TYPE: | Oil Pump |
Application(s)
| Year | Make | Model | |
| --- | --- | --- | --- |
| 2011 - 2013 | Harley-Davidson | Blackline - FXS | |
| 2013 - 2015 | Harley-Davidson | Breakout (EFI) FXSB | |
| 2008 - 2011 | Harley-Davidson | Cross Bones (EFI) - FLSTSB | |
| 2007 - 2015 | Harley-Davidson | Deluxe (EFI) - FLSTN | |
| 2007 | Harley-Davidson | Deuce (EFI) - FXSTD | |
| 2008 - 2015 | Harley-Davidson | Dyna Fat Bob (EFI) - FXDF | |
| 2007 - 2009 | Harley-Davidson | Dyna Low Rider (EFI) - FXDL | |
| 2014 | Harley-Davidson | Dyna Low Rider (EFI) - FXDL | |
| 2015 | Harley-Davidson | Dyna Low Rider (EFI) -FXDL | |
| 2006 | Harley-Davidson | Dyna Low Rider-Injected - FXDL-I | |
| 2007 - 2015 | Harley-Davidson | Dyna Street Bob (EFI) - FXDB | |
| 2006 | Harley-Davidson | Dyna Street Bob - FXDB-I | |
| 2007 - 2010 | Harley-Davidson | Dyna Super Glide (EFI) - FXD | |
| 2007 - 2014 | Harley-Davidson | Dyna Super Glide Custom (EFI) - FXDC | |
| 2006 | Harley-Davidson | Dyna Super Glide Custom Injected - FXDC I | |
| 2006 | Harley-Davidson | Dyna Super Glide Injected - FXD I | |
| 2012 - 2015 | Harley-Davidson | Dyna Switchback - FLD | |
| 2007 - 2008 | Harley-Davidson | Dyna Wide Glide (EFI) - FXDWG | |
| 2010 - 2015 | Harley-Davidson | Dyna Wide Glide (EFI) - FXDWG | |
| 2006 | Harley-Davidson | Dyna Wide Glide-Injected - FXDWG-I | |
| 2007 - 2013 | Harley-Davidson | Electra Glide Classic (EFI) - FLHTC | |
| 2007 - 2009 | Harley-Davidson | Electra Glide Standard (EFI) - FLHT | |
| 2007 - 2015 | Harley-Davidson | Electra Glide Ultra Classic (EFI) - FLHTCU | |
| 2015 | Harley-Davidson | Electra Glide Ultra Classic Low-FLHTCUL | |
| 2010 - 2015 | Harley-Davidson | Electra Glide Ultra Limited - FLHTK | |
| 2007 - 2015 | Harley-Davidson | Fat Boy (EFI) - FLSTF | |
| 2010 - 2015 | Harley-Davidson | Fat Boy Lo - FLSTFB | |
| 2012 - 2015 | Harley-Davidson | FLS Slim | |
| 2015 | Harley-Davidson | Freewheeler-FLRT | |
| 2007 - 2015 | Harley-Davidson | Heritage Classic (EFI) - FLSTC | |
| 2007 - 2009 | Harley-Davidson | Road Glide (EFI) - FLTR | |
| 2010 - 2013 | Harley-Davidson | Road Glide Custom - FLTRX | |
| 2015 | Harley-Davidson | Road Glide Custom - FLTRX | |
| 2015 | Harley-Davidson | Road Glide Special-FLTRXS | |
| 2011 - 2013 | Harley-Davidson | Road Glide Ultra - FLTRU | |
| 2007 - 2015 | Harley-Davidson | Road King (EFI) - FLHR | |
| 2007 - 2013 | Harley-Davidson | Road King Classic (EFI) - FLHRC | |
| 2007 | Harley-Davidson | Road King Custom (EFI) - FLHRS | |
| 2008 - 2009 | Harley-Davidson | Rocker (EFI) - FXCW | |
| 2008 - 2011 | Harley-Davidson | Rocker C (EFI) - FXCWC | |
| 2007 - 2010 | Harley-Davidson | Softail Custom (EFI) - FXSTC | |
| 2007 - 2009 | Harley-Davidson | Softail Night Train (EFI) - FXSTB | |
| 2007 | Harley-Davidson | Softail Springer Classic (EFI) - FLSTSC | |
| 2007 | Harley-Davidson | Softail Standard (EFI) - FXST | |
| 2007 - 2015 | Harley-Davidson | Street Glide (EFI) - FLHX | |
| 2014 - 2015 | Harley-Davidson | Street Glide Special - FLHXS | |
| 2010 - 2011 | Harley-Davidson | Street Glide Trike - FLHXXX | |
| 2009 - 2015 | Harley-Davidson | Tri Glide Ultra Classic - FLHTCUTG | |
| 2015 | Harley-Davidson | Ultra Limited Low-FLHTKL | |
Catalogs Containing This Part
| Name | Page Number |
| --- | --- |
| 15 Drag FatBook | 704 |