11/4" BAGGER MONKEY BARS [0601-1445]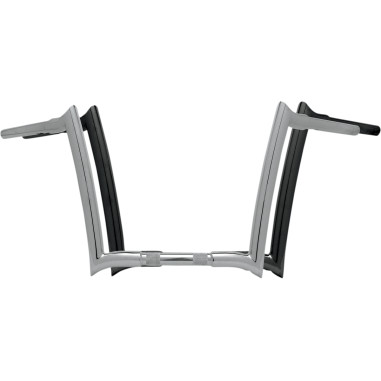 | Part # | Description | Sug. Retail Price |
| --- | --- | --- |
| 0601-1445 | Black 1 1/4" Bagger Monkey Bars | $394.95 |
Overview
Hand-crafted to fit all touring models
1.25" diameter bars are pre-drilled for easy internal wiring
Available in chrome or gloss black powder-coated finishes
Work great with Paul Yaffe's Bagger Nation "Super Clamp" one-piece riser clamp (PART #0603-0363 available separately)
Made in the U.S.A.
NOTE: PART #s 0601-1444/1445, 0601-2366/2367 will also fit most 84-15 models with 31/2" on-center risers (except Springer, FLT/FLHT and XL 883C/1200C models).
NOTE: Not for use with hydraulic clutch.
Specifications
CENTER WIDTH:
9"
COLOR:
Black
END RISE:
10"
FINISH:
Powder-Coated
MADE IN THE U.S.A.:
Yes
NOTE:

Not For Use With OEM Riser/Handlebar Clamp/Gauge Mount On XL 883C/1200C.
Will not accept hydraulic clutch

OVERALL WIDTH:
33"
PULLBACK/SWEEP:
6"
RISE/HEIGHT:
10"
SIZE OF BAR:
1 1/4"
SPECIFIC APPLICATION:
Yes
STYLE:
TYPE:
Handlebar
Application(s)
| Year | Make | Model | |
| --- | --- | --- | --- |
| 2007 - 2009 | Harley-Davidson | Road Glide (EFI) - FLTR | |
| 1998 - 2002 | Harley-Davidson | Road Glide - FLTR | |
| 2010 - 2013 | Harley-Davidson | Road Glide Custom - FLTRX | |
| 2011 - 2013 | Harley-Davidson | Road Glide Ultra - FLTRU | |
| 1998 - 2006 | Harley-Davidson | Road Glide-Injected - FLTR-I | |
| 2007 - 2013 | Harley-Davidson | Road King (EFI) - FLHR | |
| 1994 - 2006 | Harley-Davidson | Road King - FLHR | |
| 2007 - 2013 | Harley-Davidson | Road King Classic (EFI) - FLHRC | |
| 1998 - 2006 | Harley-Davidson | Road King Classic Injected - FLHRC I | |
| 2007 | Harley-Davidson | Road King Custom (EFI) - FLHRS | |
| 2004 - 2006 | Harley-Davidson | Road King Custom - FLHRS | |
| 2004 - 2006 | Harley-Davidson | Road King Custom Injected - FLHRS I | |
| 1996 - 2006 | Harley-Davidson | Road King-Injected - FLHR-I | |
Catalogs Containing This Part
| Name | Page Number |
| --- | --- |
| 15 Drag FatBook | 1049 |