ONE-PIECE FORGED ALUMINUM WHEELS [0201-1457]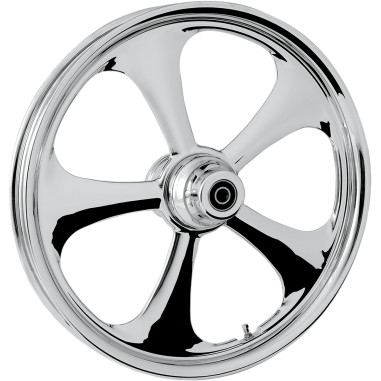 | Part # | Description | Sug. Retail Price |
| --- | --- | --- |
| 0201-1457 | One-Piece Forged Aluminum Front Wheel Nitro Chrome 21" X 3.5" Dual Disc ABS | $1,339.95 |
Overview
Made from the highest-quality forged aluminum to create a strong and durable wheel
CNC-machined and quality tested to ensure finest product possible
Drifter, Nitro, Savage, Crank and Recoil are available in a chrome finish
Savage and Crank are also available in Eclipse finish which combines black powdercoat and raw metal for a truly evil look
Made in the U.S.A.
NOTE: Front wheels listed as fitting 14-15 Dressers will require the use of RC 08-13 style front brake rotors (3.25" bolt circle).
NOTE: One-piece rotors are not recommended for front 08-15 FLHT applications.
NOTE: Matching belt pulleys and brake rotors available; see the TRANSMISSION & DRIVELINE and BRAKES sections.
NOTE: 16 x 3.5" and 18" x 3.5" rear wheels for 84-99 FLT, FLHT, FLHR, and FLHS require the use of RC Components rear brake adapter when using stock rotor.
Specifications
COLOR:
Chrome
DIAMETER:
21"
FINISH:
Chrome
MADE IN THE U.S.A.:
Yes
MATERIAL:
Aluminum
MODEL:
Nitro
NOTE:

Dual Disc
Will Not Work On Models With Reflex™ Linked Brake System.

POSITION:
Front
SPECIFIC APPLICATION:
Yes
STYLE:
Forged | One-piece
TYPE:
Wheel
WIDTH:
3.5"
WITH ABS:
Yes
Application(s)
| Year | Make | Model | |
| --- | --- | --- | --- |
| 2008 - 2013 | Harley-Davidson | Electra Glide Classic (EFI) - FLHTC | |
| 2008 - 2009 | Harley-Davidson | Electra Glide Standard (EFI) - FLHT | |
| 2008 - 2014 | Harley-Davidson | Electra Glide Ultra Classic (EFI) - FLHTCU | |
| 2010 - 2014 | Harley-Davidson | Electra Glide Ultra Limited - FLHTK | |
| 2008 - 2009 | Harley-Davidson | Road Glide (EFI) - FLTR | |
| 2010 - 2013 | Harley-Davidson | Road Glide Custom - FLTRX | |
| 2011 - 2013 | Harley-Davidson | Road Glide Ultra - FLTRU | |
| 2008 - 2014 | Harley-Davidson | Road King (EFI) - FLHR | |
| 2008 - 2013 | Harley-Davidson | Road King Classic (EFI) - FLHRC | |
| 2008 - 2014 | Harley-Davidson | Street Glide (EFI) - FLHX | |
| 2014 | Harley-Davidson | Street Glide Special - FLHXS | |
Catalogs Containing This Part
| Name | Page Number |
| --- | --- |
| 15 Drag FatBook | 1578 |